Setting up your Shop
Here are some tips to help you give the best jump-start to your brand new shop, before you start selling products!
A shop banner is a great way to showcase who you are when customers visit your shop profile. To upload a banner, just follow these steps:
Visit your shop profile. You can access your shop profile by going up to the very top right of our homepage, mousing over your username, and clicking "Shop Profile." If you haven't uploaded a banner yet, you'll see "Upload Banner."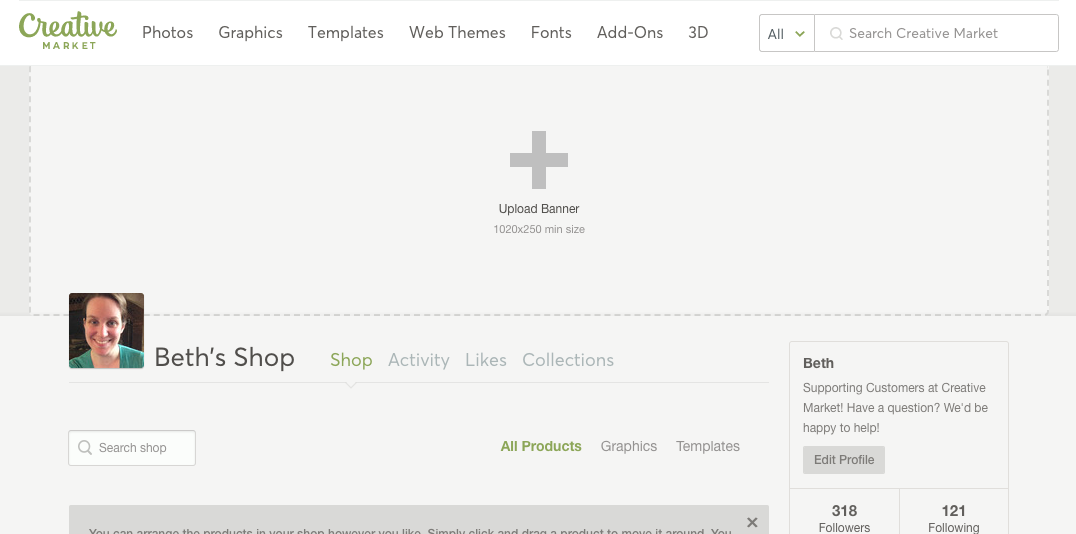 Click "Upload Banner" and you'll be able to choose an image.
Choose an image and click "Open." Here are our upload limits:

Banner must be at least 1020 x 250 px
We accept PNG, JPG, and GIF files
Banner must be less than 5 MB in size

After the file uploads, your banner is live!
You can check out great examples of Creative Market shop banners on this Pinterest board. Finally, don't forget to upload a matching avatar and update your bio on your shop profile!
You've worked hard creating great products to sell on Creative Market, so prepare for your first payout by completing your payout settings. This will allow you to fill out your shop tax form and set a payout method. Please note that until you fill out this information, you will not be able to request a payout.
For more tax- and payout-related information, please check out this helpful resource.
Disclaimer: Creative Market does not provide tax advice. For further information, and to ensure you are complying with tax laws, please consult a tax professional.
We recommend you review these helpful resources to get the most successful start selling here at Creative Market: