Your Sales Commission
How much will I make from each sale?
You put in the hard work to create amazing products, and we believe you deserve more from each sale. That's why you'll get a fair commission* of the revenue from each sale. We cover the credit card processing fees and marketing expenses that help you make more money. By default, shops will earn 50% of their list price for each sale.
* Note that commission rates do vary per shop/product
Will I get notified when I make a sale?
For each sale, you will receive an email notification and a notification alert in the top menu bar on the site. To ensure you receive your sales email notifications, please make sure you have the correct settings checked in your email notifications settings.
Still not getting your email notifications? Check out this article about email notifications.
---
Sales Statistics & Shop Analytics
The Shop Analytics Tab in your account settings provides you with the tools you need to analyze your shop sales and traffic, and it also provides you with a tool you can use to track how much you've shared your products.
Sales Dashboard
Your Sales Dashboard allows you to view your sales stats, earnings, products sold, and conversion rate.

Your Sales page allows you to generate a CSV of your sales data. First, sort by shop sales or referral commission (if you are a partner). Next, choose your date range. Finally, click the "Export as CSV" box to the left to generate a spreadsheet of the data.

All dates on the sales page and sales dashboard are based on the UTC Timezone. (Hovering over the text "UTC Timezone" will provide the time and date in UTC.)
Traffic
Your Traffic Details show you where your sales come from. You can learn more about traffic that results in views vs. traffic that results in sales.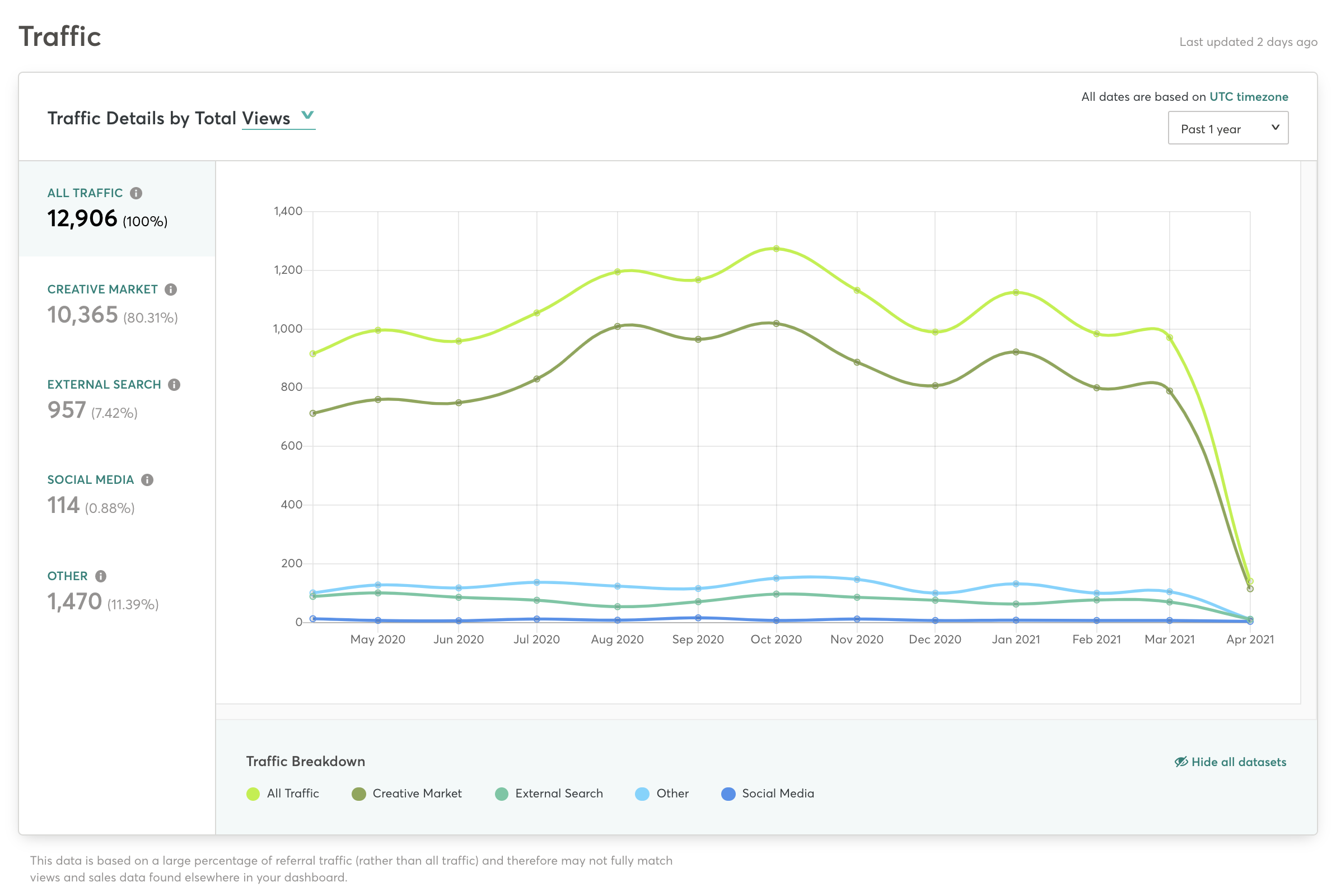 Marketing Tools
Getting the word out about your products on social media can help increase your product traffic and sales! Use our Marketing Tools to share your products and set monthly Share Goals.

Scroll down to the bottom of the Marketing Tools page to set Share Goals and learn more about promoting your products.

You can learn more about our Marketing Suite and Share Goals on our blog.
---
Common Questions
Some of my sales are showing up as tomorrow's date, or yesterday's date- why?
All times and dates in the sales dashboard are in UTC; therefore, the posted date of your sales will be in terms of the time and date in UTC. If your time zone is behind UTC, you might notice some of your sales show up as tomorrow's date, depending on when the sale took place.
For example, if you're on Pacific Time (PT), this is 7 hours behind UTC. Sales made at 5:00 pm and afterward will be listed as the corresponding UTC time on the next calendar date. Conversely, if your time zone is ahead of UTC, you might notice sales still quoting yesterday's date because UTC is behind your time zone. Here's an example of a product sale that takes place at 6:00 pm PT:

If you don't live in the Pacific time zone, you can use this tool to determine your time zone difference.
My sales dashboard is showing a different amount than my payout- why?
Your sales dashboard provides a visual representation of only the products you sold (and any partner earnings you made.) It does not account for refunds you experienced in your shop or products you purchased with your earnings.
Another thing to note is that the sales dashboard goes by the UTC time zone, while our payout schedule runs on CST. Times in UTC are 6 hours ahead of CST (5 hours ahead during Daylight Savings Time), but depending on what time the sale(s) occurred on the first and last days of the month, those sales may or may not fall within the payout cutoff (at or before 11:59 pm CST on the last day of the month.) In the example below, Product Sale 1 falls within the March payout, but Product Sale 2 occurred after the March payout cutoff and will be within the April payout.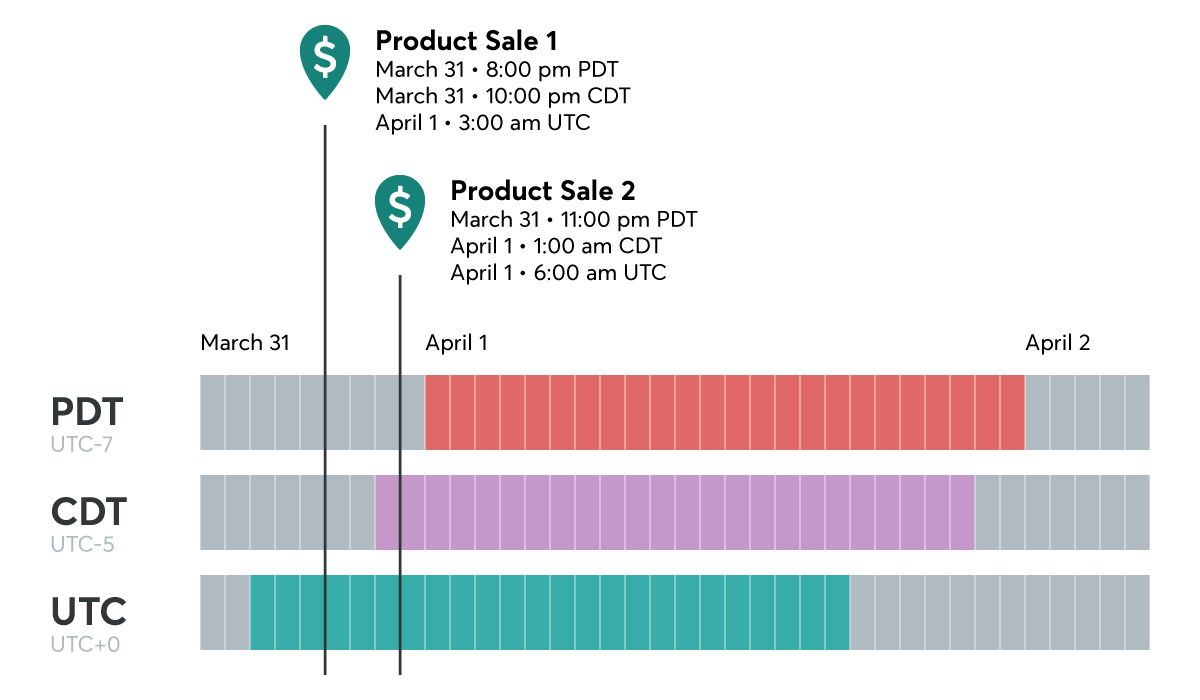 What is the difference between total revenue and earnings?
Your total revenue is the total amount your product made on the marketplace. If you sell a product for $10, the total revenue from that sale is $10, which includes your commission plus Creative Market's cut. If you're also a partner and you refer someone to the site who purchases a $10 product, the total earnings on that sale are $10.
Your earnings equal the commission amount that goes into your payout.
* Exclusions apply. Please see our Tax FAQ for more details on Tax withholdings that may occur.