Shop Owner Guide to Taxes & Payouts
We're excited to announce updates to the Creative Market Payout System. These changes include a new way to request your earnings, faster processing times, and more payout methods (ACH is here!)
We need your help to roll out these changes, so the steps listed below should be completed by Monday, February 5th.
Learn about all the important changes by thoroughly reading this guide.
Provide your current tax information and select your payout method by visiting your Payout & Tax Setup page, and follow the instructions.
You may notice that we're working with a new platform called Tipalti. Moving forward, we'll exclusively use Tipalti to collect and securely store all your tax and payout information. The Creative Market Support Team will continue to be your resource for any and all payout questions.
If you still have questions after reading this guide, please do not hesitate to reach out to us here or via payouts@creativemarket.com. 
[Please note that we are aware that there were delivery issues with the email announcement sent on January 15th. We have found and corrected the issue. Thank you for your patience!]
Will I need to register with Tipalti?
Registration will take place through the Creative Market platform, and you will not need to create a username or password with Tipalti.
When do these changes go in to effect?
These changes will roll out in January 2018. Payouts for December 2017 will be processed as usual. 
What information will I need do I need to gather to complete my tax form and provide my payout details?
This will change based on your country and filing status, but you should have the following information on hand when providing your information:
Taxpayer Identification Number (Keep reading this guide for more details.)
Copy of Passport or other ID
Physical Address
Banking or PayPal Information
Why do I have to provide my tax information? Don't you already have it on file?
We're unable to populate the tax forms hosted by Tipalti with your existing information as the forms must be completed and digitally signed by you to be valid.
IMPORTANT: If you were one of the shop owners in our tax update group in June - August 2017 and you updated your tax information with us at that time, you will not have to submit a new tax form at this time. Your form will already be in Tipalti or is on file as a PDF. You will only need to select your payout method and provide the necessary details for this update. You will still need to complete Steps 1 and 2, but for Step 3 you will see a notice that we have your tax declaration on file. See the screenshot below for reference. When you see this notice, you can choose to click the "Next" button.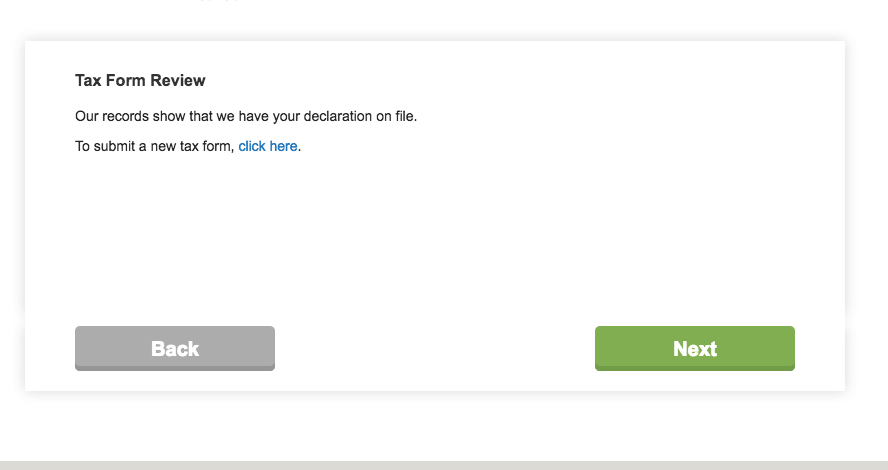 ---
Payouts
Get paid faster! 
You will still have between the first and last day of the month to request a payout, but we'll now process your payout in half the time. Previously, we were unable to begin processing your payout until the 15th of the following month, but now we'll begin processing your payout after the first five business days of the first of the following month.
For example, if you make your request on any day in January, we'll begin processing your payout by February 7, as that is the 5th business day during that month.

Remember, requests must be made by 11:59 pm Central Time on the last day of the month. It may take funds sent through certain payout methods (such as wires and paper checks) or to some countries longer to arrive in your account. Funds should arrive no later than the 10th of each month, but please note that this may not always be the case due to things like bank holidays or the 1st of the month falling on a weekend, etc. 
Check out our new, simplified payout request process!
Instead of having to time your request for the last day of the month to receive your full month's earnings, now you can choose to request your entire month's earnings on any day of the month. If you'd rather, you may still choose to withdraw a specific dollar amount.
We have also included the ability to edit your payout request, you will no longer need to make multiple requests each month. 

Please note that our new payouts system is NOT AUTOMATED. While you may select the option to "Withdraw full earnings balance at the end of the month", you must still press the "Request Payout" button each month in order to receive a payout.
Choose from new payout methods
Creative Market is committed to offering you a free, fast, and easy way to get paid. We now offer more payout options, including ACH/eCheck which is the payout method most requested by Creative Market Shop Owners and Affiliate Partners.
How will the fees be paid?
If you choose a method which has a fee, that amount will automatically be deducted from your payout. Please note that some intermediary banks may charge an additional fee for Wire payouts and/or currency conversion. This fee is not controlled by Creative Market, and you should contact your bank to determine if you will be charged this fee.
What if I request multiple payouts each month?
These payouts will be combined and processed as one payout.

Are all payout methods available in my country?
Some payout methods are not available in all countries. You can view a list of available payout methods in your country here.
What if I can't get ACH/eCheck payments in my country? Does this mean there is no free way for me to get paid?
To ensure you have a free way to receive your earnings, there will always be at least one method in each country wherein Creative Market will pay all transaction fees. If ACH/eCheck is not available, then Creative Market will cover 100% of your PayPal transaction fees. If neither ACH/eCheck/PayPal is available in your country, Creative Market will cover your Wire Transfer fees. You can find out which fees are waived in your country here.
If you have questions or concerns about successfully receiving payouts in your country, please reach out to the Support Team. 
 How are foreign transaction fees charged when receiving an ACH/eCheck payout in my local currency?
These fees will automatically be debited from your payout at the time it is submitted to your bank.
---
Taxes
Tax Forms
The Internal Revenue Service (IRS) of the United States (U.S.) requires that the relevant forms are filled out completely. The absence of required tax information may result in (additional) withholding. If you are a resident of a country that has an income tax treaty with the U.S., you may be eligible for a reduced rate or exemption from withholding.
You may make a treaty claim via the correct tax form in to have a lower withholding rate for your US-source sales of products and bundles.
For example, if you are a Bangladesh tax resident, Article 12(2) of the applicable treaty states that the US government may levy a 10% tax on US-source royalty income. This tax is collected through withholding on our Creative Market Sales.
Without a treaty claim, Creative Market is required to withhold at a 30% rate. Note that if your country does not have a tax treaty with the US, we are required to withhold 30%.
How does withholding work for earnings through the Affiliate Partner Program?
These earnings are subject to withholding, and you will still need to complete the proper tax form.
What are the names of the IRS Tax Forms, and who submits them?
FORM
SUBMITTED BY
W-9
(common)
US Persons (individuals and entities) to provide their US Taxpayer Identification Number and Certification
W-8 BEN
(common)
Non-US Persons (Individuals) to provide a Certificate of Foreign Status of Beneficial Owner for United States Tax Withholding and Reporting
W-8 BEN-E
(common)
Non-US Persons (Entities) to provide a Certificate of Foreign Status of Beneficial Owner for United States Tax Withholding and Reporting
W-8 ECI
(uncommon)
Non-US Persons to Claim That Income Is Effectively Connected With the Conduct of a Trade or Business in the United States
W-8 EXP
(uncommon)
Foreign Governments, International Organizations, Foreign Central Banks of Issue, Foreign Tax-Exempt Organizations, Foreign Private Foundations, and Governments of US Possessions to provide a Certificate of their Status
W-8 IMY
(uncommon)
For use by Foreign Intermediary, Foreign Flow-Through Entity, or Certain US Branches to provide a Certificate of their Status and transmit a withholding statement and respective tax documentation for the Beneficial Owners (if applicable)
Withholding Rates
If my country has a tax treaty with the US how will that affect what info I need to supply to Creative Market and how will it affect what, if anything, will be withheld from my earnings?
If your country has an income tax treaty with the US, please fill out the treaty benefits portion of the Form W8-BEN, W8-BEN-E, or other. An income tax treaty will provide for a reduced or zero rate of withholding on royalty income. Please note that to claim a treaty rate you must provide a taxpayer identification number. You may view a list of the current withholding rates here.
Do I need to pay tax to the IRS directly?
Creative Market will be collecting and remitting any withholding to the IRS. The US government will not expect you to self-assess this tax.

Are my Creative Market earnings classified as royalties?
Generally, transactions in digital creative content give rise to royalty earnings. Your earnings may be subject to withholding based on your country's income tax treaty with the US.
How can I determine if my country has a tax treaty with the United States?
Please click here for the complete listing of all US tax treaties.
Taxpayer Identification Number
Do I need to include a Taxpayer Identification Number?
A Taxpayer Identification Number (also called a TIN) is necessary to make a treaty claim. Without a treaty claim, the IRS mandates that we withhold 30% of all sales made to customers within the United States. All shops will be automatically withheld at 30% until they have submitted a valid tax form and/or made a valid treaty claim.

What if I do not have a TIN or do not know if I do?
Many countries issue citizens or residents a TIN automatically, but it may be called something else. Your TIN would be a unique number issued by your government which you may use to pay taxes or identify yourself. You may be able to find it on your government-issued identification card or passport. In most cases you may easily apply for a TIN from your government. You can also apply for a TIN from the IRS. It is free to apply and receive a TIN from the IRS.
Please see the table below for a list of what a TIN may be called in your country. If your country is not on this list, it doesn't mean you do not have a TIN. Additionally, this resource may prove helpful to you in locating your TIN.
Country
What your TIN may be called
(please verify with your government)
Australia
TFN
Bangladesh
TIN or eTIN
Belarus
UNP
Belgium
Numéro National (NN)
Bulgaria
Unified Civil Number (UCN)
Canada
SIN
China
ID Number or Credibility Code
Czech Republic
Personal Number
Estonia
Personal identification Code
France
Numéro Fiscal de Référence or numéro SPI
India
PAN
Indonesia
NPWP
Israel
ID Number
Italy
IT-TIN (Codice fiscale)
Latvia
ID Number (Found on ID Card)
Romania
CNP (Found on ID Card, Passport)
Russia
INN (Or other number used for tax purposes)
Spain
National Identity Card Number
Turkey
National Identity Number
Ukraine 
Individual Taxpayer Identification Number
United Kingdom
NINO or UTR
Affidavit of Unchanged Status
As the final step in providing your payout and tax information, you will be asked to complete an Affidavit of Unchanged Status confirming your tax information.
Why do I need to fill this out?
If you are subject to tax withholding, you will be asked to complete the Affidavit. This affidavit is for our records and helps us ensure that we have consistently withheld at the correct rate.
Where can I submit my Affidavit of Unchanged Status (and supporting documentation)? 
You can upload your signed affidavit and supporting documentation here.
I already filled this out, do I need to do it again?
No, if you were part of the group who completed this step in June-August 2017 you do not need to complete this step again.
What is Supporting Documentation?
If the date of your first sale is more than a year ago you may be required to provide Supporting Documentation (ie., passport, etc.).
If you are filing individually (meaning you do not have an entity or company and you filed a W8BEN) the following documents may act as Supporting Documentation:
A certificate of residence - A certificate of residence issued by an appropriate tax official of the country in which the payee claims to be a resident that indicates that the payee has filed its most recent income tax return as a resident of that country.
Individual government identification - This would include any valid identification issued by an authorized government body that is typically used for identification purposes (such as a passport).
A third-party credit report.
*NOTE: For most users filing individually, a passport is their preferred documentation.
If you are filing as an entity (meaning you have legally incorporated and are a company, corporation, or other and have filed a W8-BEN-E or other entity form):
General documentary evidence: any organizational document (such as articles of incorporation or a trust agreement), financial statement, third-party credit report, letter from a government agency, or statement from a government website, agency, or registrar (such as an SEC report).
Entity government documentation: any official documentation issued by an authorized government body (for example, a government or agency thereof, or a municipality).
Payee-specific documentary evidence: a letter from an auditor or attorney with a location in the United States that is not related to the withholding agent or payee and is subject to the authority of a regulatory body that governs the auditor's or attorney's review of the chapter 4 status of the payee, any bankruptcy filing, corporate resolution, copy of a stock market index or other document to the extent permitted in the specific payee.
*NOTE: For most users filing as an entity, a financial statement or papers of incorporation are their preferred documentation.
What if my information has changed?
If your information has changed, you still need to complete and submit the Affidavit of Unchanged Status and provide Supporting Documentation (if requested). Simply use the space provided on the Affidavit to outline what has changed such as address, country of residence, or tax status.