Troubleshooting Common Issues with your Purchase
In an effort to provide you an easy resolution to common technical issues that may arise with your purchased item(s), we've provided some resources below that we hope will help. Just click on a topic to learn more! We also offer other helpful resources you can use to troubleshoot product issues in this section of our Help Center.
---
Common Issues
First, make sure you have unzipped your product. Since all Creative Market products are provided as ZIP files (compressed files), you must first unzip the file in order to use the product. If you're unsure how to unzip your file, you can learn how to do that here.
If your product is already unzipped, but you're still having trouble opening the file, please make sure you're opening the file in the correct program on your computer. Here are some common file types found on Creative Market and the corresponding programs that are typically used to open them:
AI, EPS - Adobe Illustrator
INDD - Adobe InDesign
PSD - Adobe Photoshop
DOC, DOCX - Microsoft Word
PPT, PPTX - Microsoft PowerPoint
KEYNOTE - Keynote (for Mac)
OTF, TTF - font, installable on all computers
For more detailed information about these files and these compatible programs, check out our File Type FAQ page.
We recommend that you review the product description written by the shop owner very carefully before you purchase. Many shop owners clearly describe what software is required and which versions are required of that software, directly in the body of their listing description. Also, pay particular attention to the "Compatible With" parameter in the product specifications directly below the screenshot. Additionally, you can view the included files in the product. This shows important information about file types and software compatibility.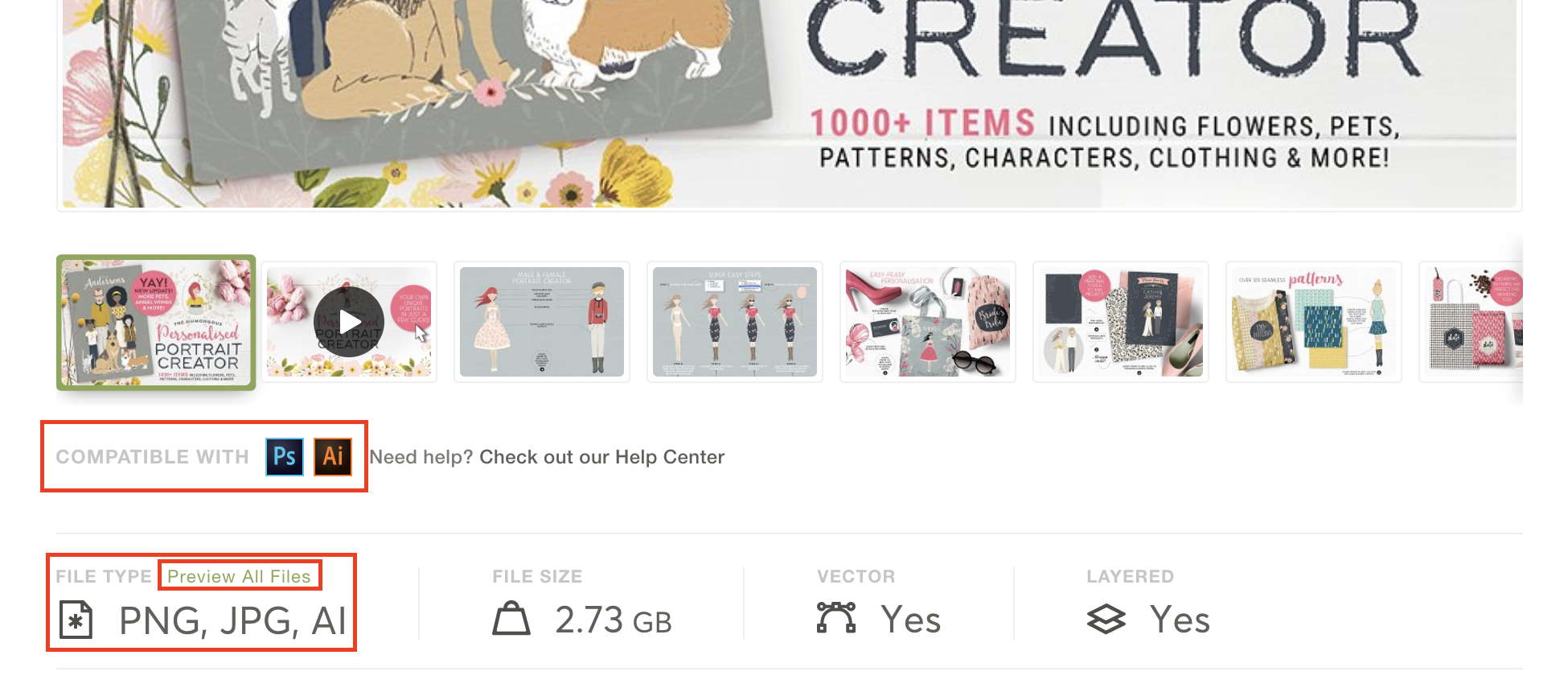 For example, this product is compatible with [Ps] and [Ai], which means that you'll need Photoshop and Illustrator to use the product. Clicking "Preview All Files" shows the product contains both PSD and AI files. (You can view a listing of all of the files in the product by clicking "Preview All Files.")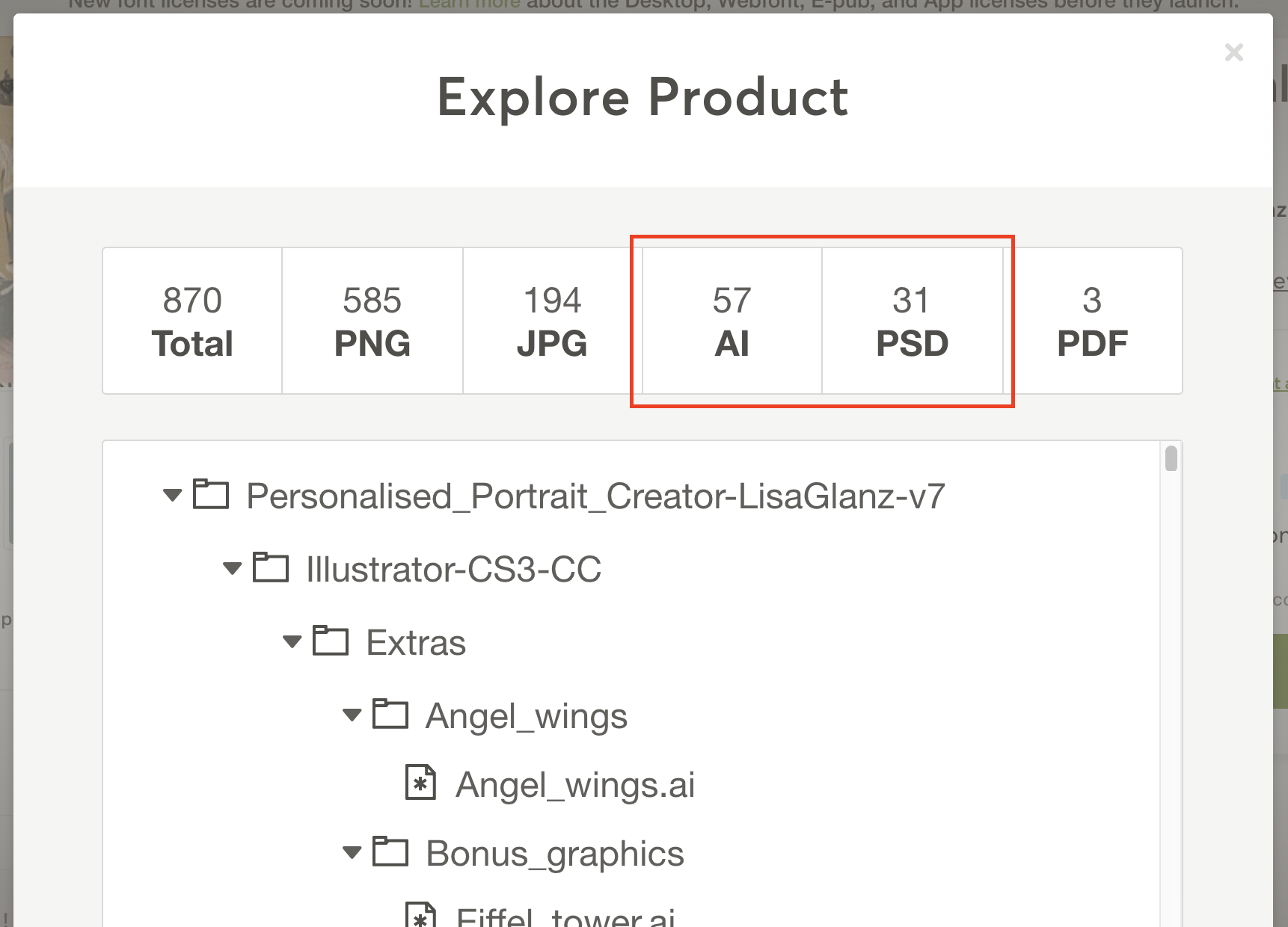 For more information about common file types, check out this article.
Some sellers have added specific version compatibility information about their products. If they have, it's available if you mouse over the software icon(s):

Otherwise, for specific questions about whether or not the product is compatible with your software or version, we recommend that you contact the seller directly, and they'll be happy to help answer your questions.
Many shop owners include User Guides or "Read Me" files that will get you started after you download the product. Make sure to review these to learn how to work with your new purchase!
If you don't have the specific software required to use the product, you may be able to download a free trial. Below are some links to free trials of the most commonly required software:
There are a couple of reasons why your font may not seem to be functioning correctly. First, please check the product folder to make sure there are no specific instructions provided by the shop owner. Second, it is important to check the program in which you are using the font. Generally, word processing programs such as MS Word, presentation programs such as Microsoft PowerPoint, or cutting programs like Cricut will not offer robust OpenType support. This means they are not built to display some special features (like alternates and ligatures) that many Creative Market fonts offer. In general, we recommend that you use these fonts in more OpenType-savvy programs, such as Adobe Photoshop, Illustrator, or Adobe InDesign, etc. These apps are better choices for that type of usage, because they are more equipped to better handle the OpenType features of your purchased font.
To read more about font installation, using your new font, and how to get the most out of your font, check out our Font FAQ.
It's always disappointing when a product doesn't work in the way you expect! If you're having a technical issue, 9 times out of 10 the shop owner is able to resolve your technical concern, so you should contact the shop owner directly to get your specific question answered. Do this by sending them a private message by clicking on the Message button on their shop page or posting in the comments section of the product page.
Note: Most shop owners sell on Creative Market part time, so they may take a few days to reply. Please note: If we contact them on your behalf, it increases the time to reply to you. However, if you don't receive a response in a couple of days, please feel free to contact Support.
First, we would suggest checking the product folder to make sure there aren't multiple versions of your product. Often times, shop owners will provide a flattened sample file along with their original high quality layered file. For instance, a shop owner could include in the product folder a rasterized graphic which will appear pixelated upon enlargement. However, in the same folder, there is a EPS/AI file that contains the scalable, layered vector format of that same graphic that would allow you to resize the product without suffering any loss in quality.
First, please make sure that the theme you purchased is a Wordpress theme. All of our Wordpress themes are found in our category here, and they differ from themes built for other platforms (like Bootstrap, Ghost, Joomla, etc). Additionally, HTML website templates are not the same as Wordpress themes are cannot be installed on Wordpress.
Here are two issues that may prevent you from installing your WordPress theme:
Please note that Creative Market sells Wordpress.org themes, which you host yourself. In most cases, our themes are not built to work with Wordpress.com. Learn more about WordPress themes/templates on our site here.
If you got an error message that there was the style.css sheet was missing, the main style sheet may be named something else, and/or is located in a separate css folder. You may have to redirect your software to locate the correct style sheet from this subfolder.
There are a couple things that could be causing the issue. Here's some things to check:
What size is the original file? Make sure the downloaded file is the same size as the original product file. If your downloaded file is smaller, your file probably did not download correctly.
I'm getting a cpgz or part file. This signifies an incomplete or partial download, and we suggest that you try downloading the file again.
File is the correct size, but it is corrupted. If it is a large file, there may have been a download error that occurred. Please try downloading the file again and consider using a download manager to avoid more issues.
If you're having trouble downloading a product from Creative Market, we recommend you try these tips to troubleshoot the issue:
It might help to use a download manager, which would allow you to pause/resume downloads and minimize other download issues:
Make sure your network connection is not lost at any point during your download. Sometimes the network connection may be lost if your computer goes to sleep, which may result in a corrupted .zip file, or a .cpgz or .part file (signifying an incomplete or partial download).
Restart your browser. Sometimes a quick restart helps clear up any blocks and allows for faster downloads.
Clear your browser's cache and the Creative Market cookie and try the download again.
Alternatively, log in using a different browser, trying the download again.
Please make sure you do not have ad blockers, an anti-virus program like Kaspersky, or a firewall switched on while using Creative Market. We've received reports from our customers that these tools often block downloads and prevent certain actions on the site.
If you're downloading the file at work, verify that your IT Department allows .zip downloads. Sometimes a corporation's zealous IT security settings can cause issues on our site or even block downloads.
Please verify that your Internet service plan facilitates downloading large files. We typically recommend internet download speeds of at least 6-12 MBPS to browse our site, while download speeds of 20 MBPS or more are ideal for the smoothest downloading experience. Additionally, it may help to avoid using a shared connection (such as a library or coffee shop), as these lower-bandwidth areas may result in a less-stable connection or slower downloads.
Finally, using our Dropbox Sync feature may help.
Please let us know if none of these tips work. We'd be happy to further assist you!
NOTE: If you purchased a large product, it might exceed our shop owners' product upload limit. In these cases, the seller has probably has provided download links in a .txt or PDF file that will direct you to download the product from a third-party host, such as Dropbox. If you're having trouble with the link(s), we recommend that you contact the shop owner right away, as they have the most control over the link(s). However, please note that a seller cannot control your internet connection speed, so if you're still having trouble downloading, we'd be happy to continue working with you to provide an alternate solution.