Summary: Here's a handy guide to interpreting a product listing and finding out the most possible about the product you're about to purchase.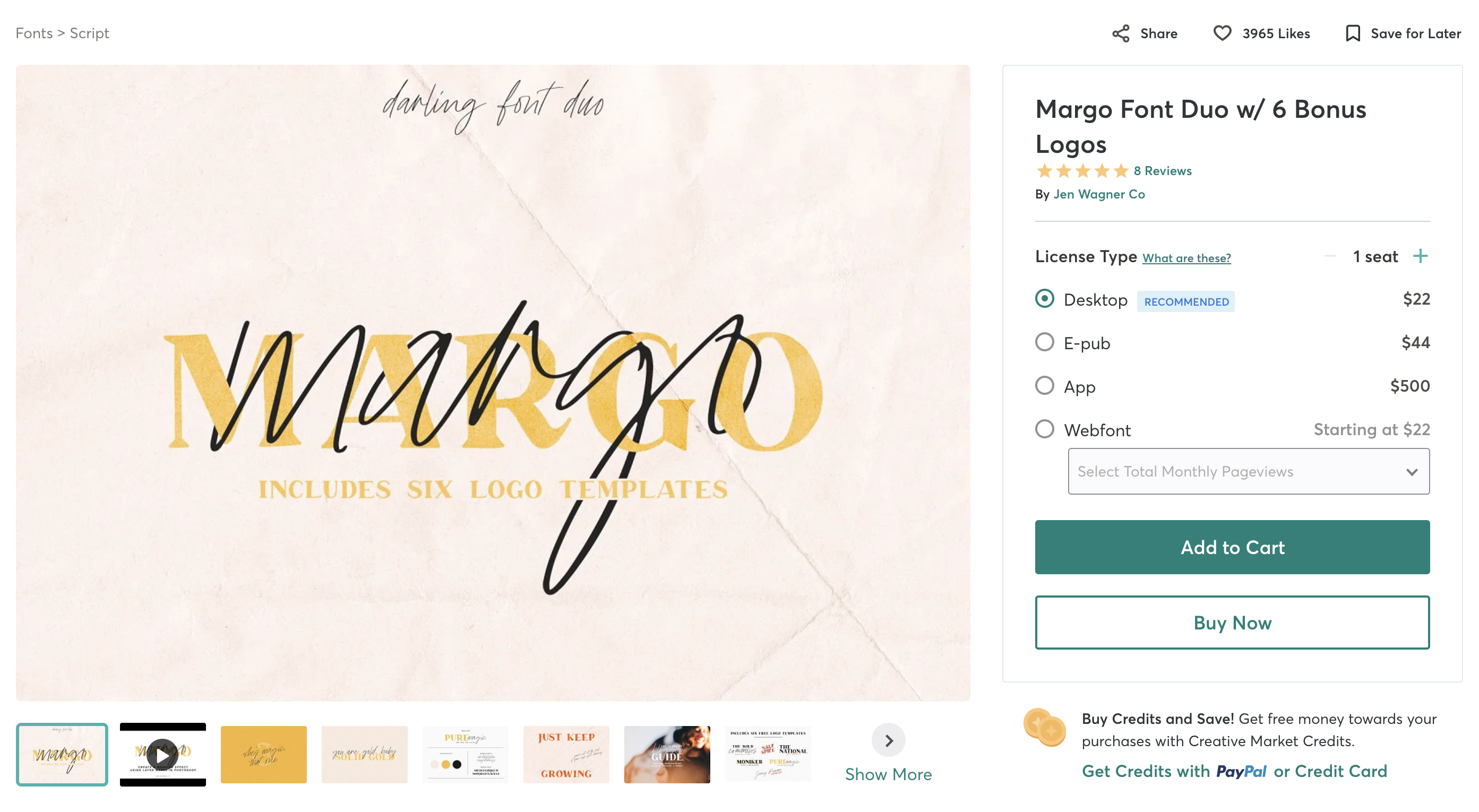 (Product Shown: Margo Font Duo by Jen Wagner Co)
Sharing Tools: You can share the product, click the small heart to "like" the product, or save the product to a collection.
Category and subcategory of the item. This tells you more about the type of product to expect.
Display images: The main display is shown, and you can click the display to take a closer look at it and also scroll through the other screenshots. Additionally, you can click any of the smaller product thumbnails to check out the product's displays.
Product title
Product's overall star rating. Click on the "# Reviews" to jump straight to reviews about the product.
Shop Owner who is selling the product. You can click their name to view their shop and the other products they offer.
Purchase Flow: Here's where you can purchase the item or add it to your cart. Here's what you'll see here:

Seats: Select the number of licenses you need by clicking the + or - button here.
License Type: Select the license you'd like to buy. You can learn more about the licenses offered by clicking "What are these?"
Add to Cart: Want to buy more than one item? Add the product to your cart! You can access your cart later, review your purchases, and enter payment info there when you're ready to check out.
Buy Now: When you click this button, you'll enter checkout and have a chance to enter payment information. (Note: Clicking "Buy Now" does not bill you - there's still an extra step.)
Product Description & Specs

Font Preview: Font products offer a preview tool you can use to try out the font before you purchase. Select sample text strings, type your own text, and adjust the size in the preview below.

Listing Description: This provides specific details about the product itself. It often lists what's included and provides more detailed insight as to what software is required in order to use the product. (If the product description is lengthy, click "Show More" to view the full description. It's important to review the listing carefully before purchase, because it usually provides a complete picture of what you'll receive when you purchase.)
Product Specs: Depending on the product category selected, this sidebar offers more information about product, including software compatibility, file size, dimensions, DPI, and other attributes.
File Preview: Click "Preview the Files" at the bottom to view the included file types and a file and folder hierarchy inside.
After scrolling past the product information, you can see more information about the Shop Owner, as well as a place to read reviews and FAQ, or leave a comment.