Summary: Learn more below about product file types for Creative Market products and software compatibility for common file types.
For each product type on Creative Market, there are a number of different file types! Understanding file types will give you a good idea of what software you'll need in order to use a product.
The majority of products offered require specific software for you to open and edit. Fonts with OpenType features like stylistic alternates and swashes also work best in OpenType savvy apps. We recommend that you completely read the product description written by the Shop Owner before you purchase. Most Shop Owners clearly describe what software is required, right in the body of their listing description.
Product Specs
In addition to the product description, Shop Owners offer detailed information about compatible software in the Product Specs sidebar, found to the right of the product description.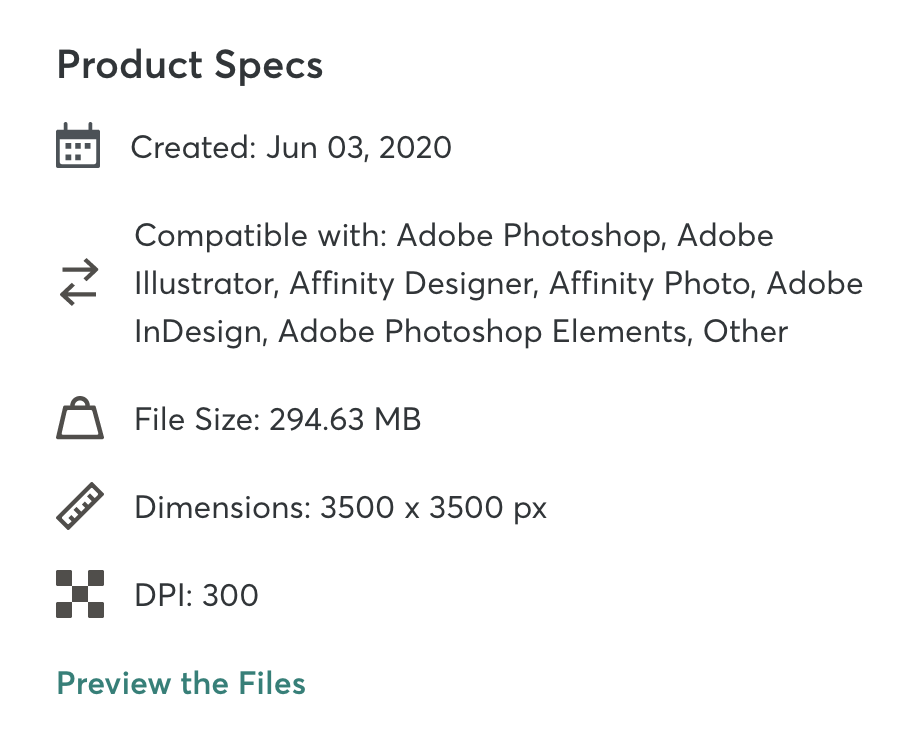 For example, the image above shows that the product is compatible with more than one type of design software. This indicates that the product files include multiple file types that provide a range of software compatibility. (Please note that not all included files will be compatible with all of the listed software.)
You can also view a listing of all of the files in the product by clicking "Preview the Files." This will let you see which file formats are included, and it will also let you view the file and folder hierarchy within the product zip file.
Common File Types
Using the chart below, you can see what kind of software is needed for some of our most common files on the site.
Note: Please make sure your software version is also compatible because sometimes a product may need a newer version of the software. If you ever have a question on what version is required, get in touch with the seller directly.
Format
Software Required
Description
AI
Adobe Illustrator
Vector-based file that can be scaled, Adobe Illustrator only
EPS
Adobe Illustrator
Other vector software
Vector-based file that can be scaled
INDD
Adobe InDesign
InDesign working file that supports multiple pages
IDML
Adobe InDesign
InDesign file that can be opened in older versions of InDesign (CS4 and earlier).
PSD
Adobe Photoshop
Photoshop Elements*
Raster-based layered working file for Adobe Photoshop / Photoshop Elements*
*Some PSD files may not be fully supported by Photoshop Elements, so check with the Shop Owner before purchasing.
DOC, DOCX
Microsoft Word
Microsoft Word Doc (DOCX is for version 2007 and higher)
PPT, PPTX
Microsoft PowerPoint
Microsoft PowerPoint Presentation (DOCX is for version 2007 and higher)
KEYNOTE
Keynote (Mac only)
Presentation format for Keynote (Mac only)
OTF, TTF
Any Operating system; most software that supports text creation
Installable font files that work on any system, in any software that supports text creation.
OTF Features may not be supported with all software
JPG
Most image readers or editors
Lossy graphics file with set dimensions
PNG
Most image readers or editor
No loss on compression; supports transparency
GIF
Can be read by most systems and web browsers
Small file size and color palette; can be animated
SVG
Can be read by most systems and web browsers; can be opened by vector editing software and imported into cutting software
Vector format defined by XML files
PDF
Adobe Reader or other PDF readers
Captures documents to view or print (typically read-only)
---
Common Questions
Many products require Adobe software, but I have GIMP - will that work?
Many of our products are delivered in Adobe formats, so it's always a good idea to review product listings very carefully before making a purchase, or even ask the Shop Owner if you're not sure your software will support the product. GIMP, a free, open source design app, may support some Adobe formats, but it's hard to guarantee that GIMP will support all of the features of a specific file format. You can learn more about what file formats are supported by GIMP in this helpful article.
Can I use vector files in Inkscape?
Inkscape, a free, open-source app for vector illustration, can import a variety of vector file formats (although it's hard to guarantee that certain vector file formats will work 100% as intended.) You can learn more about Inkscape's file support in this helpful article.
---
You can learn more about file types in this blog post! We've also written a detailed post about all the different graphic formats.
Still unsure if the software you have is compatible with a product you're interested in? Feel free to get in touch with the seller directly to find out!