Installing and Troubleshooting Fonts
---
Fixing Install Errors
First, make sure you have unzipped the product before installing. You won't be able to install a .zip file. Please also note that you need to install the font before using it! You cannot open the font file in a program like Microsoft Word; you need to install it into your computer/device first.
Occasionally, fonts may generate an error when you install it in Fontbook on a Mac. Fontbook actually has a built-in validation tool that it runs when you install a font, and sometimes it can be picky. Small issues with the font's validation or metrics may cause this. Sometimes an error may be generated simply because the font is already installed in your system! Other times, heavily distressed fonts in particular may generate the error due to the fact that they are memory-intensive to use and might bog down your system.
It does NOT mean that the font contains malware or anything that will harm your system. Typically these fonts are safe to install without any corrections of the error, and you will probably never notice any issues when you use the font. Here's what you can do:
Install the font manually: Copy either the OTF or TTF file to your HD > Library > Fonts folder
Install the font anyway, using Fontbook: Click "Install Checked"
Contact the Shop Owner with details of the install error. Usually this is an easy fix that can be done by the Shop Owner.
---
Software to use with OpenType fonts
Fonts are cross-platform, meaning that they can be installed on your Mac OS or Windows system. Additionally, fonts can be used in most desktop applications that allow you to create and edit text. However, not all programs support all OpenType Features. This means that even though most programs will allow you to use the font's basic character set, not all programs will support the special features (such as alternates, ligatures, or swashes) automatically.
Below is a simple chart showing common applications and a general level of their OpenType support. We recommend that you use an OpenType savvy application to get the most out of your OpenType fonts; these programs are found in the "Best OpenType Support" column below:
What if I don't have OpenType savvy apps? I use Silhouette Studio, Word, etc
If you don't have any of the programs in the Best OpenType Support column, check and see if the font you've just purchased is PUA Unicode-mapped. Usually, the listing will indicate this. If so, you will be able to follow these instructions to copy and paste the special characters in your program. 
---
How to Use OpenType Fonts
OpenType fonts (fonts ending in OTF) typically have one or more special features and may include Stylistic Alternates, Swashes, Ligatures, etc. We highly recommend using OpenType savvy software to use these fonts. We recommend programs like Adobe Illustrator, InDesign, or Photoshop (CC introduces some new OpenType support!)
There are a couple of different ways to take advantage of OpenType features in Illustrator, InDesign, and Photoshop CC, using panels.
The Character Panel (Photoshop CC, InDesign)
Open your Character Panel (Window > Type > Character)
Opentype features can be accessed here from InDesign by clicking on the option menu on the top right corner of the panel.
Use this panel to select fonts and choose from options such as smallcaps, all caps, etc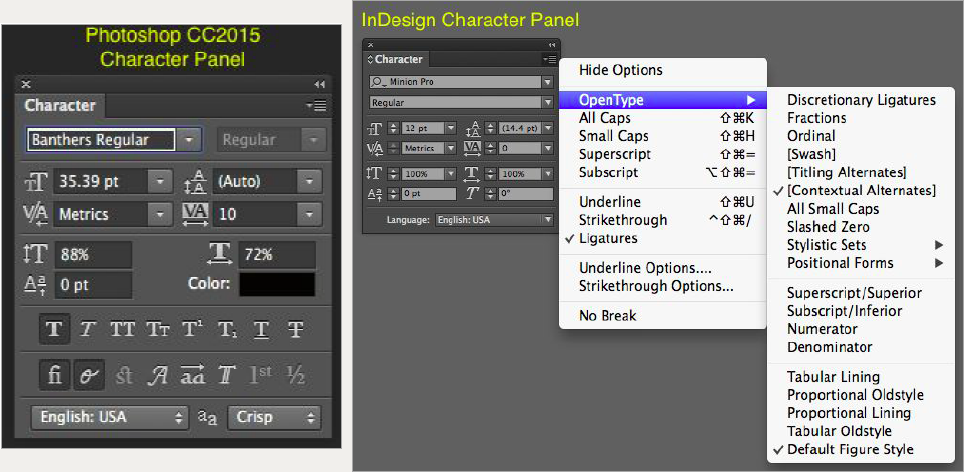 The Glyphs Panel (Illustrator, InDesign) This gives you complete control over which specific characters to choose from the font.
Open your Glyphs panel (Window > Type > Glyphs)
You'll see a dropdown menu on the top of the panel that says "Show" - from there, you can elect to show the entire font or a specific alternate set (such as ss01, ss02, Standard Ligatures, etc.)
If you show the entire font, all the characters will be shown on a grid. You can manually select alternates for each character with a tiny triangle in the bottom right hand corner. Just click the character and you'll be able to see and select alternates.

The OpenType Panel (Illustrator Only)
Open your OpenType Panel (Window > Type > OpenType)
Use this panel to switch on/off ligatures, alternates, swashes, etc.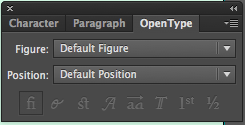 Microsoft Word and other Microsoft Office products:
Microsoft Word, Excel, and Powerpoint have limited OpenType support, which means you may not be able to make use of all of the OpenType features, but there are a few features you can use, such as ligatures and stylistic sets. This article may be helpful regarding using OTF fonts in Word.
---
How to use PUA unicode-mapped fonts
Some OpenType fonts have a lot of extra features, such as alternates, ligatures, and swashes. Unfortunately, not all software (such as Microsoft Word, Silhouette Studio, the Cricut design space, or Photoshop Elements) can fully support these features. However, this is where PUA Unicode-mapped fonts provide the solution! This special encoding allows you to access these special characters without having software that fully supports the font's OpenType features.
How do I know if a font is PUA Unicode-Mapped?
Usually, our Shop Owners include a brief statement in their product that says something like "This font is fully unicode-mapped," or something similar:
(Font pictured is Storyteller by MyCreativeLand)
If you're not sure, we recommend asking the seller!
How do I use unicode-mapped fonts in my software?
Use the following methods of copying / pasting characters to access special features. Please note that for non-unicode-mapped fonts, the copy/paste results may not work.
---
Help! My fonts are getting "Cut off" in Word!
Some script fonts with sweeping ascenders / descenders may look "cut off" when you use them in Microsoft Word. Here are a few ways to work around this issue. First, with text selected, go to Format > Paragraph. In the Indents / Spacing tab, under Spacing -> Line Spacing. ("Single" is shown in the display)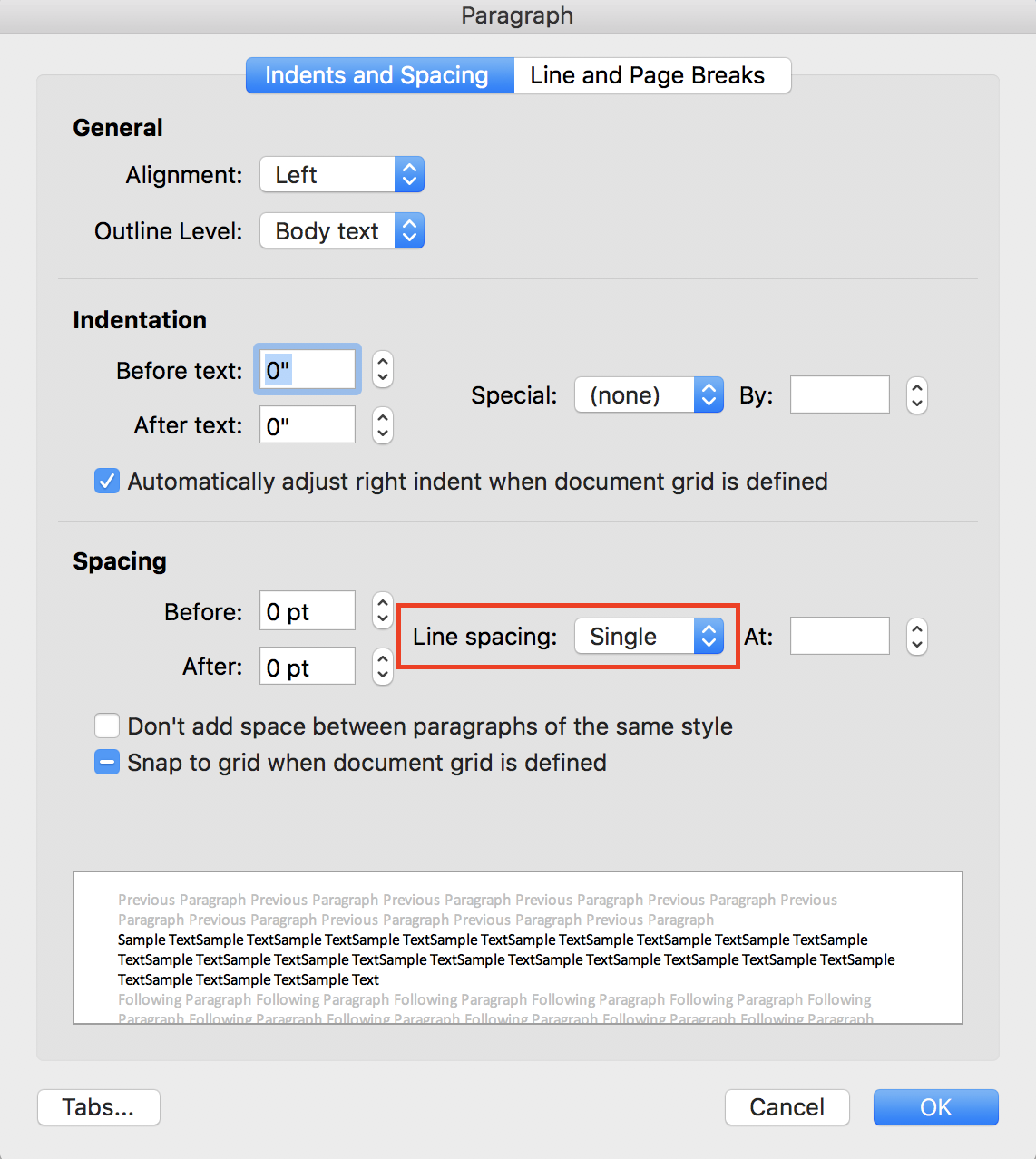 Next, try some of these options :
Option 1: Select "At Least." For "At," enter the size that corresponds to the size of your font.
Option 2: Select "1.5 lines." This may be more effective for script fonts with large descenders or swashes.
Option 3: Enter a value in the "After" field that's 1-4 pt or more (for 72 pt+ font) or 2-3 pt (for a 48pt font.)
Option 4: Select "Multiple." For "At," enter a very small value like 1.1 or 1.05, experimenting as necessary.
Hopefully this will help you work around issues with ascenders and descenders looking cut off. You can read more about this here on Microsoft:
If you're still experiencing an issue, don't hesitate to contact the seller, since it's something they may be able to resolve by editing the metrics of the font. 
---
Still experiencing issues? Contact us here!