Summary: Keeping track of devices that have access to your Shop is one of the most important ways to keep your Shop safe from unauthorized users. Learn more about Creative Market's Device Authorization below and find out how to troubleshoot if needed.
Account security is incredibly important to us at Creative Market. To keep your Shop account safe, you will receive an email each time a new device (such as an unrecognized computer, browser, tablet, or mobile device, etc) logs into your Creative Market account. Here's an example of the information you'll see in these emails: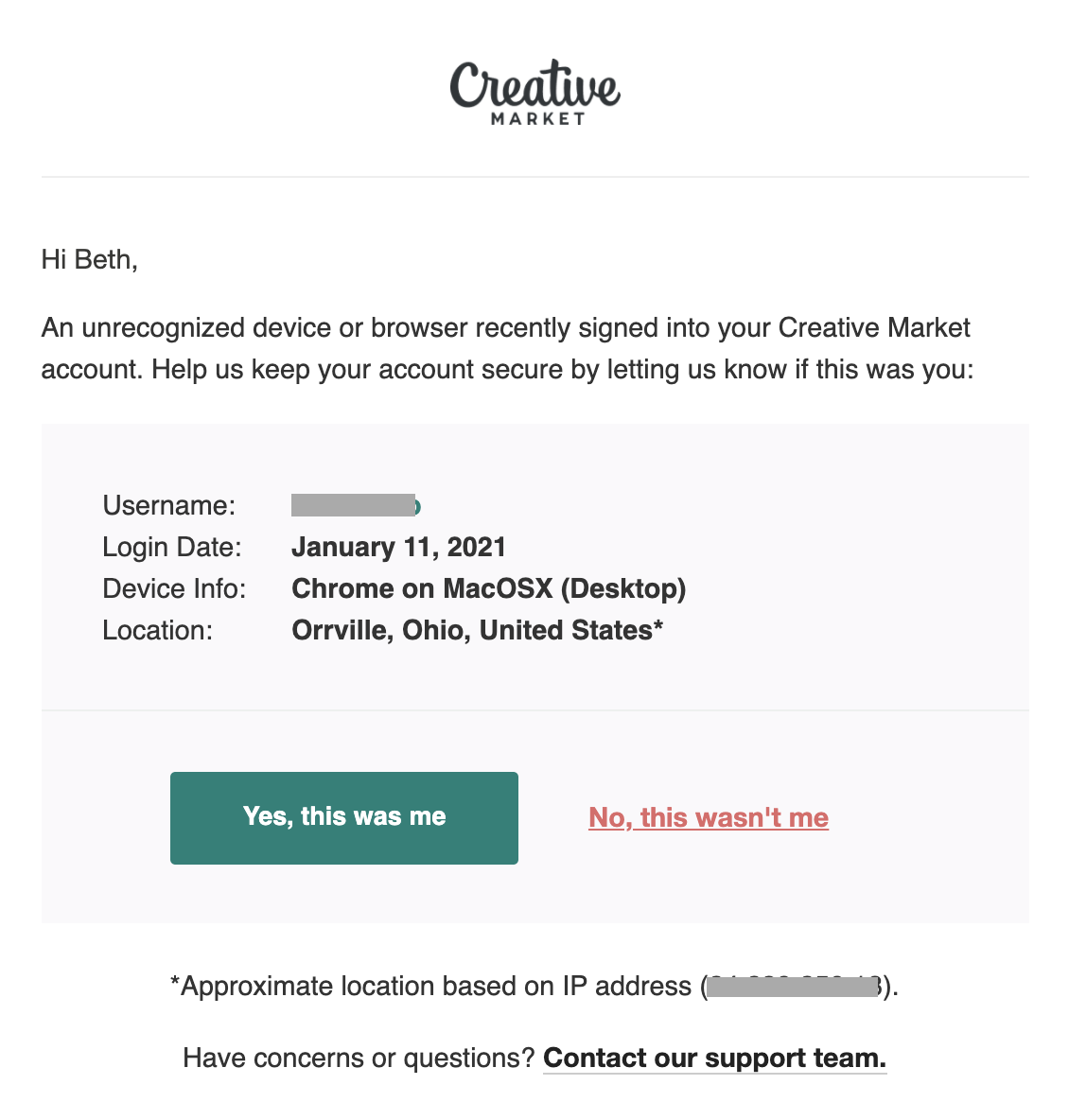 If you recognize the device on the email, that's great! Just click on "Yes, this is me" in the email. This will let us know the new device was being used by you. Once we get this information from you, we'll mark your device as safe, and you'll be able to continue to use the site normally, change account settings, request payouts, etc.
If you don't recognize the device on the email, please click on "No, this wasn't me". This will set our system to block that device from further accessing your account. When you mark No, all of the active browser sessions currently logged into your account from the unauthorized device will be logged out for security reasons, and you will then be prompted to reset your password.

If you are unsure about any login notification, please feel free to reach out to our Support team at any time and we'll be happy to check for you.
IMPORTANT: It's extremely critical that you mark unrecognized devices as No, this wasn't me right away. This will give you the opportunity to reset your password and automatically end all unauthorized sessions, which will prevent any unauthorized user(s) from accessing your account any further. If you accidentally mis-mark these devices as Yes, this was me, please let us know right away so we can help you secure your account again. Otherwise, it may be possible for unauthorized users to change your account settings and gain your information.
---
Troubleshooting
Help! I'm having trouble verifying my device to access my account settings!
When your device hasn't been approved yet, but you're trying to access your account settings, you'll see a message like this: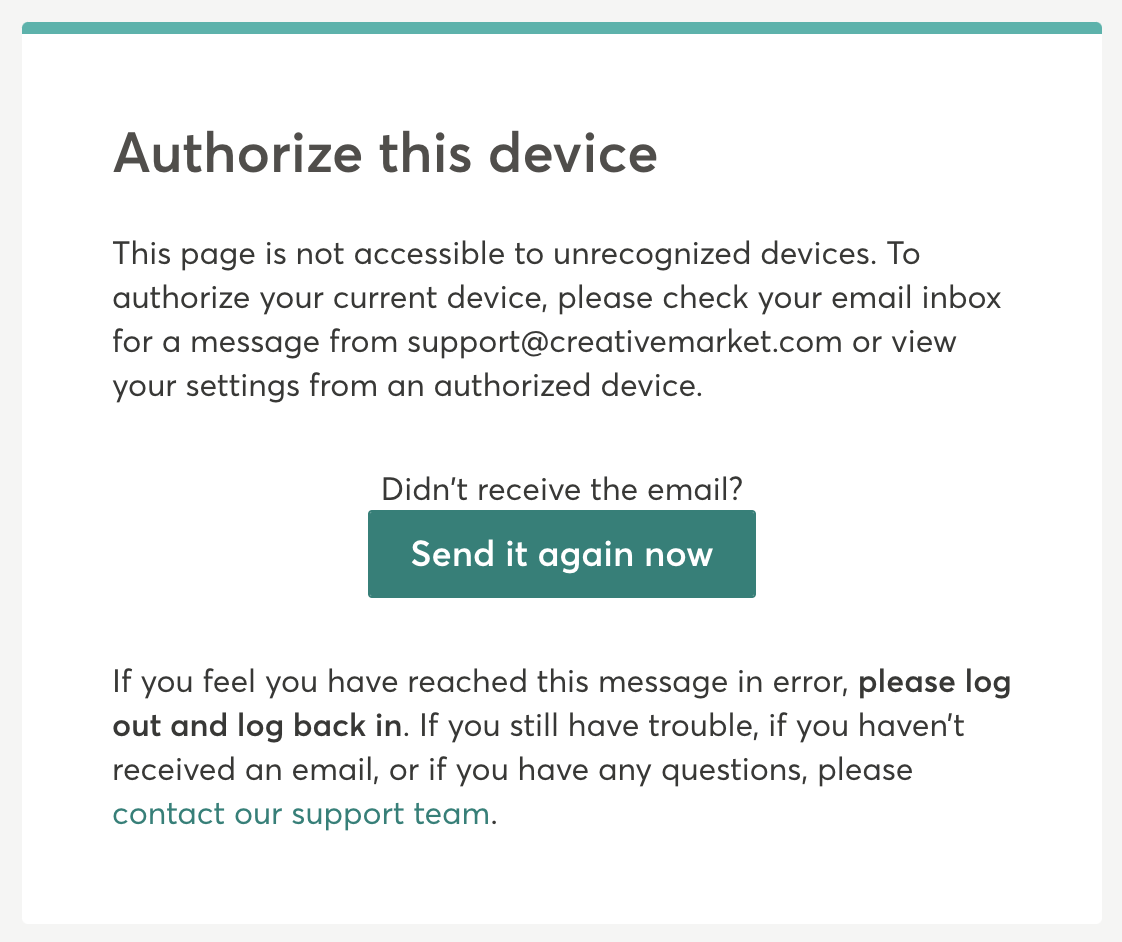 Simply check your email for a message entitled "A new device signed into your account" from Creative Market Support, and follow the instructions in the email.
If you did not receive the email, check your spam or trash to make sure you didn't miss it; otherwise, you can use the above screen to resend the email.
However, if you've already approved the device and still see this message, we suggest taking the following steps:
Clear all Creative Market cookies from your browser. Here's an article that will help you clear cookies from almost any browser or mobile device. It's important that you completely clear out Creative Market-specific cookies to resolve. (Clearing the rest of your cookies from other sites isn't necessary.)
Restart your browser and log into your account again. At that point you should be able to access your shop settings.
Alternately, you can log into your account from any other previously approved device, visit your devices page, and review/approve your trusted devices from that page.

If this doesn't resolve the issue, please let us know right away. We want to do everything to help you be able to access your account settings as soon as possible!
---
How do I check and manage the devices that have accessed my account?
To check all of the devices that have accessed your account, visit your devices page. Keep in mind that you will have to do this from an approved device that has already been authorized to access your account. From your devices page, you'll see a list of authorized devices and (if applicable) unrecognized devices, like this:

To remove any device, simply click the X beside it on the right side, or the Decline button (if the device is unrecognized). You'll see this message pop up: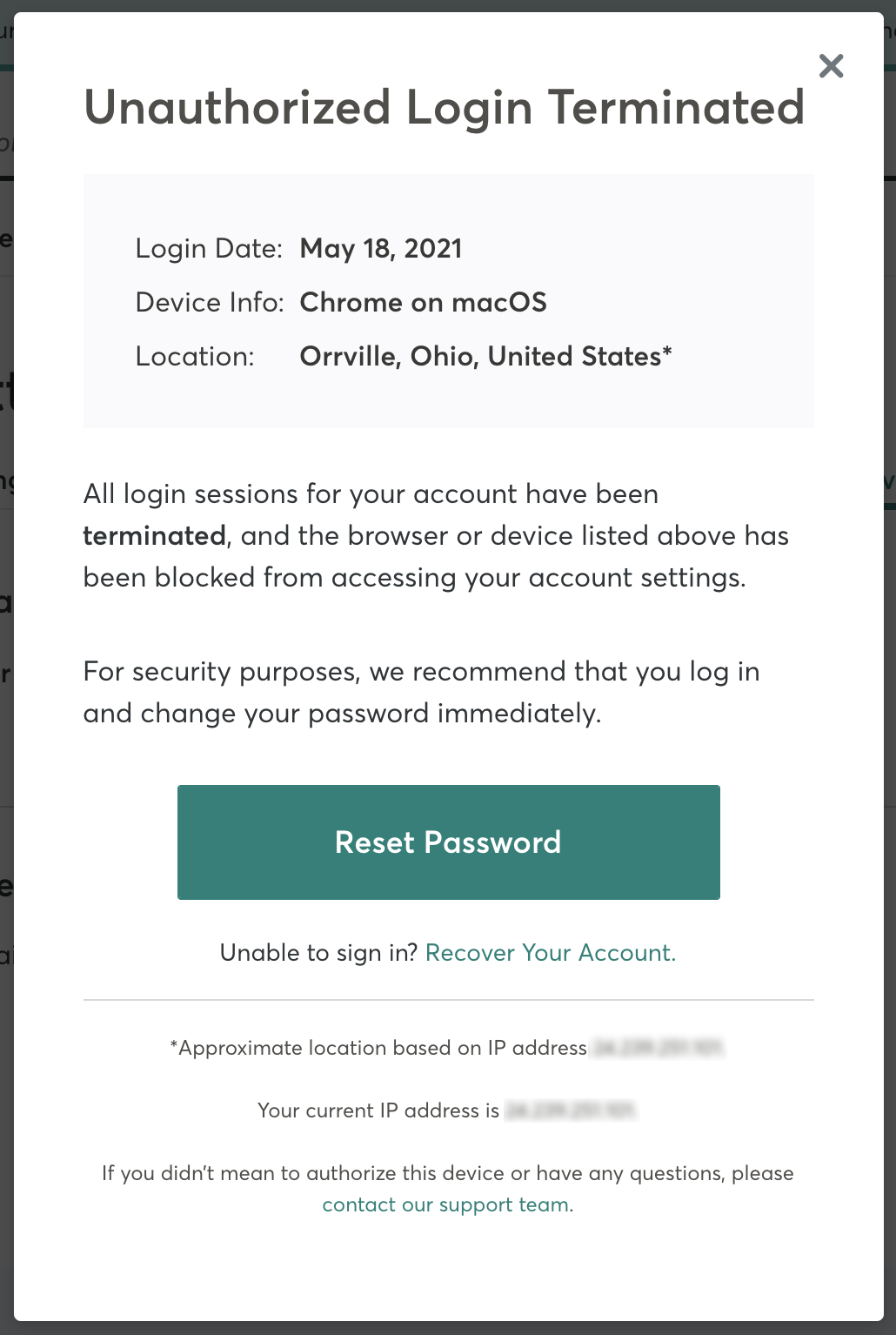 If you have any questions about the device authorization process or if you're having trouble accessing your account settings, please contact support.