Creative Market's 5-star review system allows customers to leave detailed feedback about their purchase from your shop. (We've provided some review best-practices and guidelines for customers here.) You're talented, driven, and passionate about growing your shop, and our 5-star review system is here to support that goal and give you access to the kind of actionable feedback you can grow with.
Here's how you can start using customers' detailed feedback to elevate your products:
How to Find Your Product Reviews
To find your Product Reviews, visit your Shop Profile, then click "Reviews" to see all of your product reviews.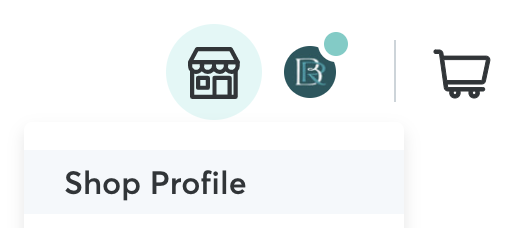 You can also elect to be notified via email when you receive a review.
Like comments, reviews are totally public. You'll know who shared it, and you can reach out to your customer directly to resolve an issue. You can also respond to these reviews publicly, providing a new opportunity to share your take on specific product problems.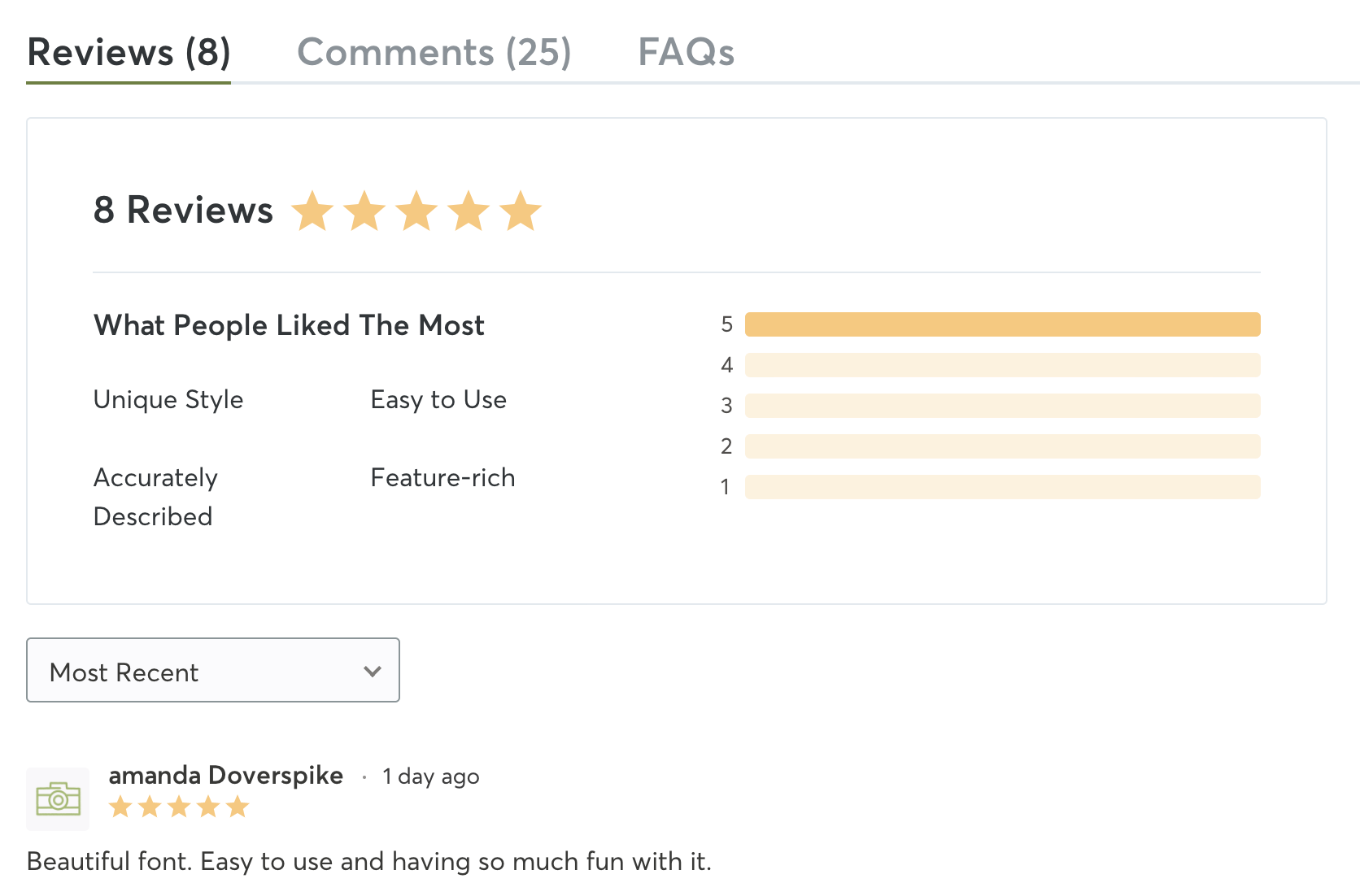 Aside from star ratings in category-specific options (e.g. "well-kerned" for Fonts or "easy to modify" for Templates), you'll also be able to see the reason users have chosen that score (if they've added it).
Responding to Product Reviews
As a Shop Owner, you have the opportunity to respond to your customers' product reviews.

When you've responded to the review, you can edit or delete your response at any time. Please note that deleting your response does not delete the customer's review.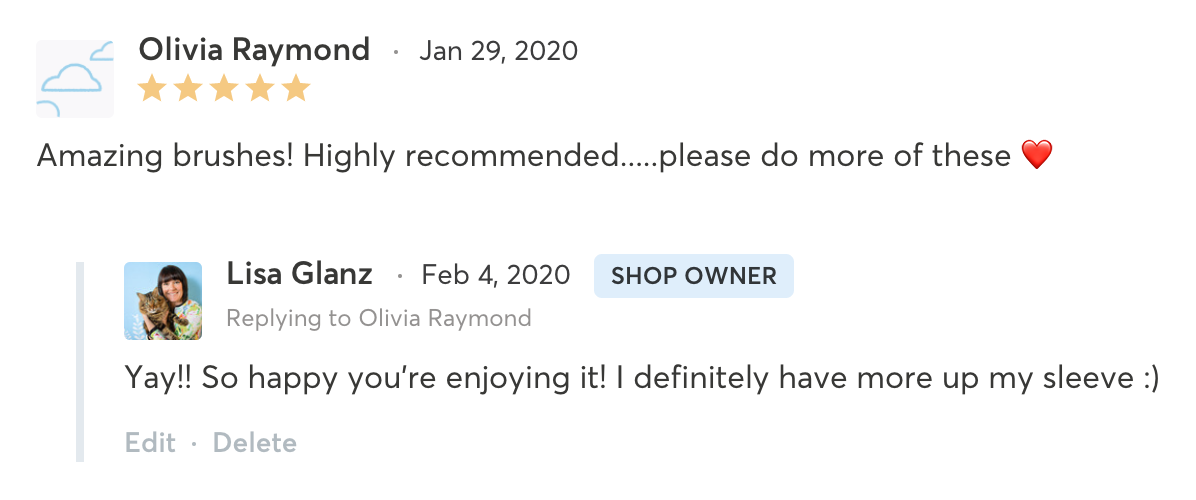 Why should you respond to your product reviews?
Every seller has a different support philosophy, so ultimately, you can decide when and how to respond to your reviews. However, responding to all of your product reviews and feedback professionally (positive and critical alike) does these 4 things:
It shows your customers that you are listening to their feedback.
It shows your responsiveness as a seller.
It shows both the customer and other bystanders that you stand by your product.
It helps build your trustworthiness and authenticity as a seller.
When responding to reviews, consider these best-practices for establishing stellar customer support:
Thank the reviewer. Your customer has given you the gift of their feedback! Only a small percentage do.
Empathize with any struggles expressed by the customer. Even if you don't agree with specific feedback you received, it's always appropriate to reply with a "sorry to hear that" if it seems like a customer is struggling or had a bad experience.
Offer to address any critical feedback you receive. Let them know that you want to continue the conversation in your private messages, then follow up there to ask for more details or work toward a resolution.
Stay professional, no matter what! Your reply to a review- especially a critical one- is a reflection of your shop and your customer service. Make it a good one that improves your reputation as a seller!
---
Common Questions:
I disagree with a review left by a customer. Can I remove it?
To help show an honest spectrum of customer feedback, Shop Owners are unable to remove product reviews. Censoring critical feedback gives your future customers a biased perception of your product.
You don't have to agree with everything a customer says about your product, because a review is written based on the customer's opinion and their personal experience with your product. Additionally, reviews often reflect a customer's skill level, and skill levels vary widely from customer to customer. However, critical reviews offer great learning opportunities that can be used to improve the product.
For example, if you're hearing feedback from customers that your product is hard or confusing to use, you may not personally agree. You created the product, after all! However, it might be a good time to build out some helpful tutorials or other supporting documentation that will help make your product easier to use or less confusing. We've found that the most successful Shop Owners provide supporting documentation that addresses the needs of customers who are beginners.
What if the review I receive is irrelevant or offensive?
We expect customers to leave feedback that is relevant, constructive, and courteous, according to these guidelines. However, if you notice that a customer has left a review that violates our review guidelines, please let us know.
Can the customer change their review or star rating?
Yes, a customer may change their star rating, choose different attributes, and edit their review comment at any time. They may also delete their own review.
What can I do about a negative review that the customer won't change?
We know how much effort our sellers put into building great products, and understandably, negative reviews can be disappointing. While there's usually an opportunity to turn those reviews around, ultimately, the customer will form their own opinion about the product and their experience with it. Not even the most popular sellers can please everyone, and this will always be a part of e-commerce. Creative Market respects the individuality of each customer's experience with their purchase, so provided that the customer's review meets our Guidelines, Creative Market does not remove negative reviews. Otherwise, censoring this feedback gives your future customers a biased perception of your product. After replying to the negative review with courtesy, focus on giving your future customers a great experience. This may lead to more positive reviews, and these positive reviews will help give bystanders a more accurate picture of your product and your level of support!
Can I ask the customer to change their review if I've resolved their technical issue?
If a customer has left you a critical review due to a technical issue, and you worked with them to resolve it, there's still a chance that they'll change their review. There's no guarantee that they will update their review, but it might not hurt to let them know that you'd love it if they considered updating their review based on their experience.
You can also add or modify your response to their review to provide an update like, "I'm sorry to hear you experienced an issue! We've been in contact in messages, and I've fixed the file that was giving you trouble, so hopefully it should be smooth sailing from here on out!" Responding to your reviews in this way will give bystanders a good idea of your level of customer support and show them that you stand by your products and are willing to make things right. It also shows them that they can rely on you for assistance, should they need it.
Why are all reviews public?
Creative Market's negative recommendation (thumbs-down) ratings were anonymous, giving customers the opportunity to leave critical feedback honestly. However, we also found that this anonymity frustrated the sellers who wanted the opportunity to reach out to those customers with an offer to help them have a better experience. To maintain transparency between buyers and sellers, and to help foster an environment of support, all reviews- positive and critical alike- are public.