Editing your Profile Information
NOTE: This article refers specifically to your account on Creative Market. You can learn more about managing your account on Creative Market Pro in this section.
You can edit all of your account information (name, username, email address, social links, etc) on your Account Settings here.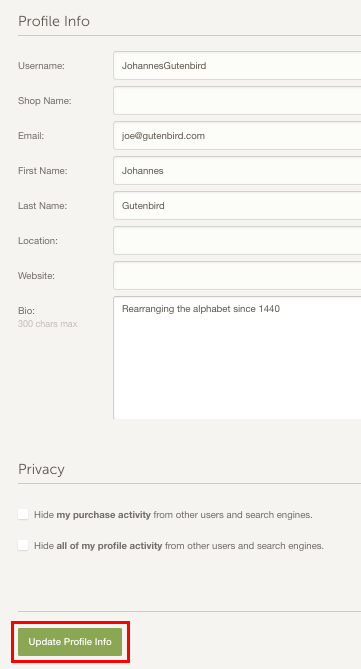 Just edit to what you would like to your profile to reflect, then hit the green Update Profile Info button to save all your changes.
---
Privacy Settings on your Account
You can choose to make your account activity and purchase activity private, so it's visible just to you and hidden from search engines. Just visit your Account Settings: from the upper righthand drop-down menu, select Settings. Then click Profile Info and scroll down to the section called Privacy. 
Here, you can check one or both boxes that will hide all your purchase and/or profile activity from other users and search engines.
NOTE: If you click the second option "Hide all of my profile activity," your purchase activity will also be hidden automatically. You may notice that after clicking both options and updating profile info, the purchase activity box becomes unchecked- but don't worry! Your purchase activity will still be hidden. Additionally, checking either box will ensure that the [Purchased] badge is hidden beside your name on comments you make on a purchased product page.
If you are concerned about your profile being in Google search results, please note that Google controls when search results get updated. Once your changes are saved, it will take some time for Google search results to show the new changes you've made to your account. 
The frequency of search result updates are based on many factors that are programmed into Google's search algorithm. Unfortunately, this is not under our control, so we appreciate your patience and apologize for any inconvenience. We do not have the ability to know when Google will update the page. However, our engineers are looking for ways to send more information to Google to speed up this process.