How to make a purchase
Summary: You can purchase a product directly using a credit card, or you can optionally purchase credits using your credit card or PayPal. Credits are like cash to use on the Creative Market site. PayPal is available only when you purchase credits. Learn more about our purchase methods below.
Click on a topic to learn more:
---
Ways to Purchase
Currently, Creative Market accepts credit card and PayPal for credits packages and products purchased directly.
Type
Credit Card
PayPal
Purchase a product directly

✅
Available

✅
Available (New!)

Purchase a Credits Package

✅
Available

✅
Available
Direct Product Purchases
Here are the payment methods we offer to purchase products directly. No credits packages required!
Credit Card: Manage your saved credit cards in your account Payment Settings.
PayPal
Enter your credit card directly into our secure payment form, finish the purchase, and download your purchase right away.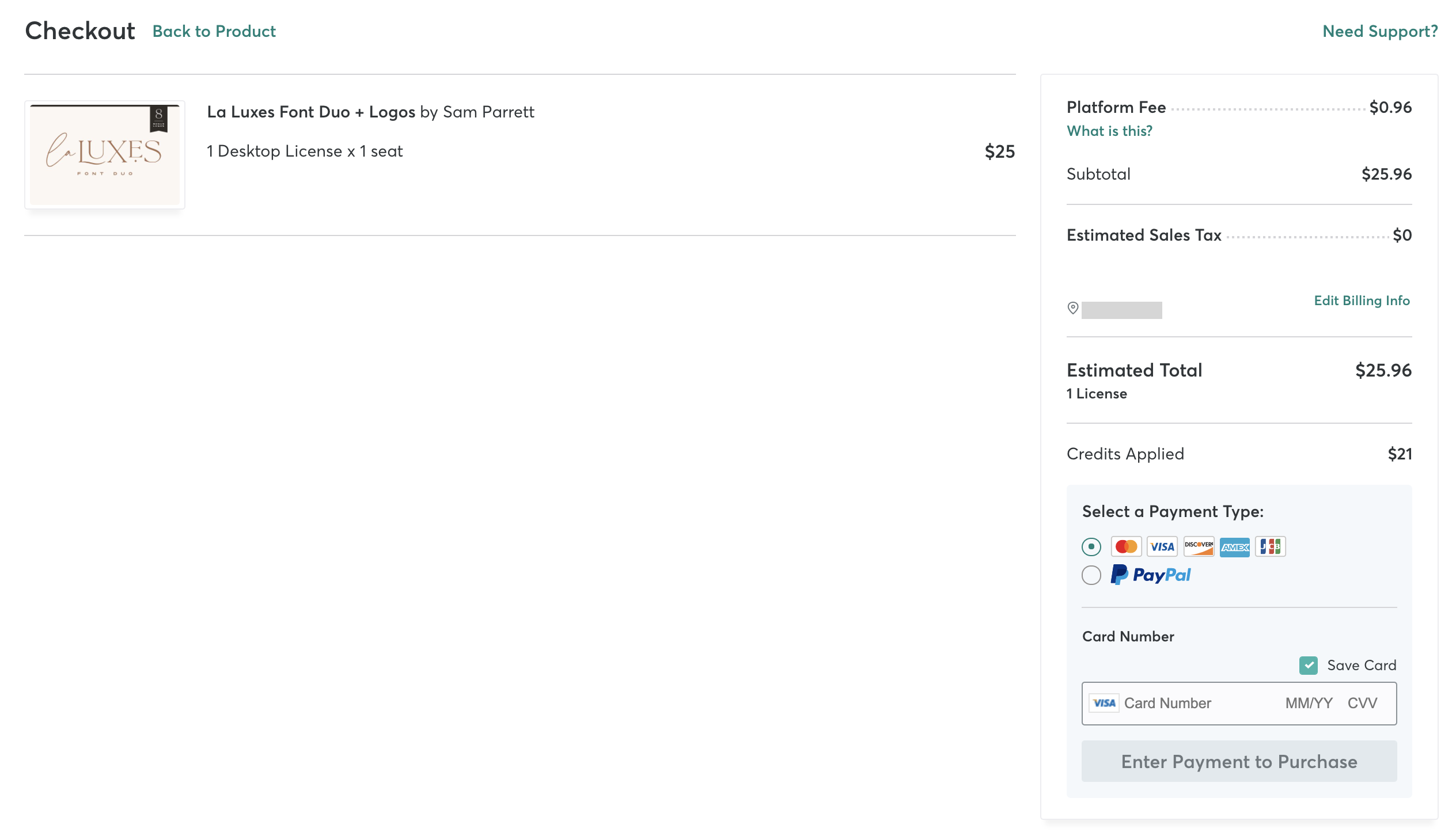 Purchase a Credits Package
Credits packages are similar to gift cards (for yourself!) to use if you want to stock up on Creative Market assets. If you want to download several products, many licenses, or reduce the number of billing transactions, you can purchase a credits package of a predefined amount (denominations of $25, $50, $100, $200, and $500).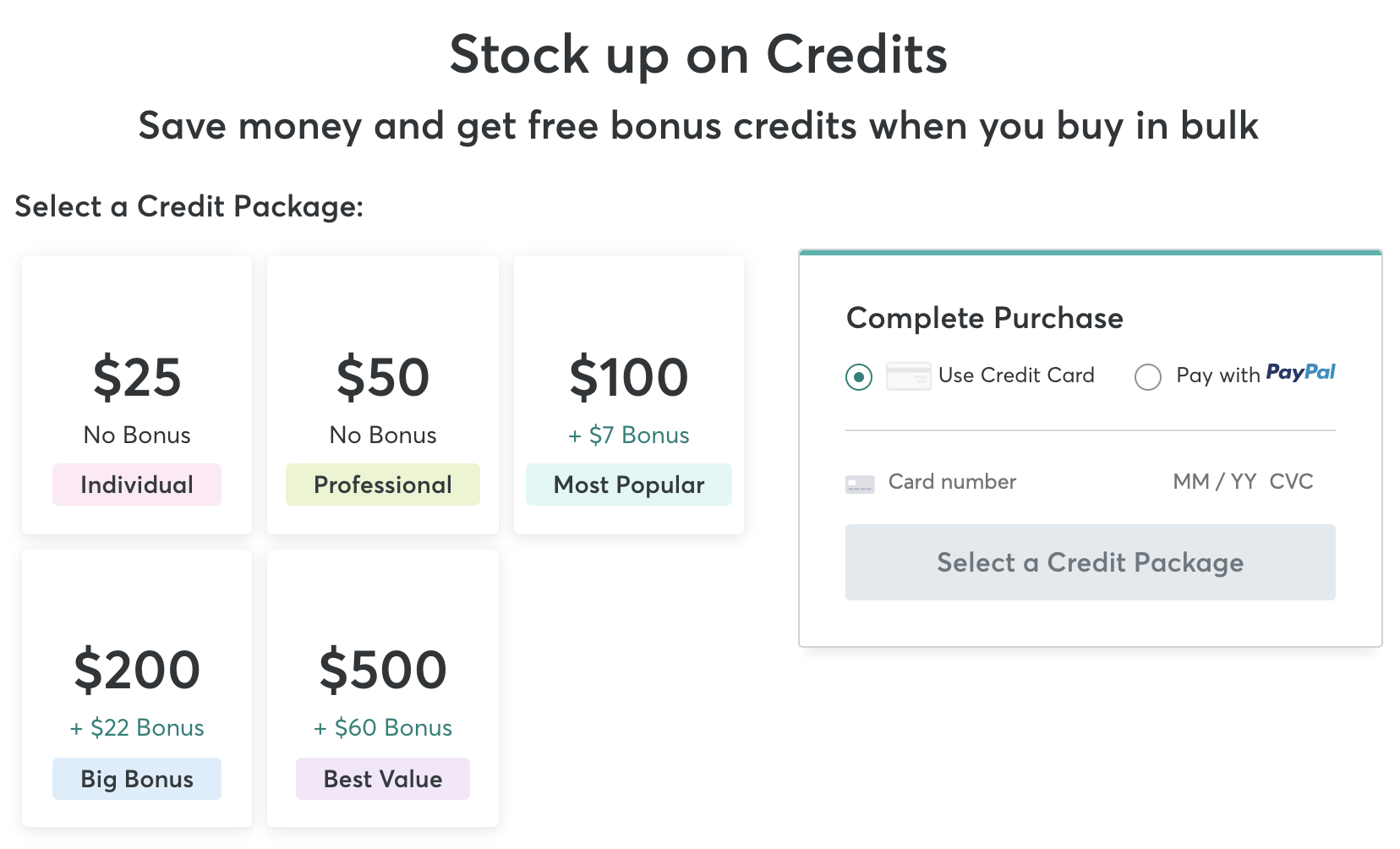 We accept the following payment methods for credits:
After purchasing credits, you can use them just like cash on the site to download any product(s) you'd like from Creative Market. You can learn more about buying credits here.
---
Credits Packages
What are Creative Market credits?
Creative Market offers the option to purchase credits, which are similar to cash for the site, or gift cards that can be redeemed for products. Credits come in packages from $25 to $500, and each credit is worth $1 USD. Credits are helpful if you'd like to purchase multiple products, or you want to minimize the number of transactions on your bank statement. Credits are not required to purchase products on Creative Market.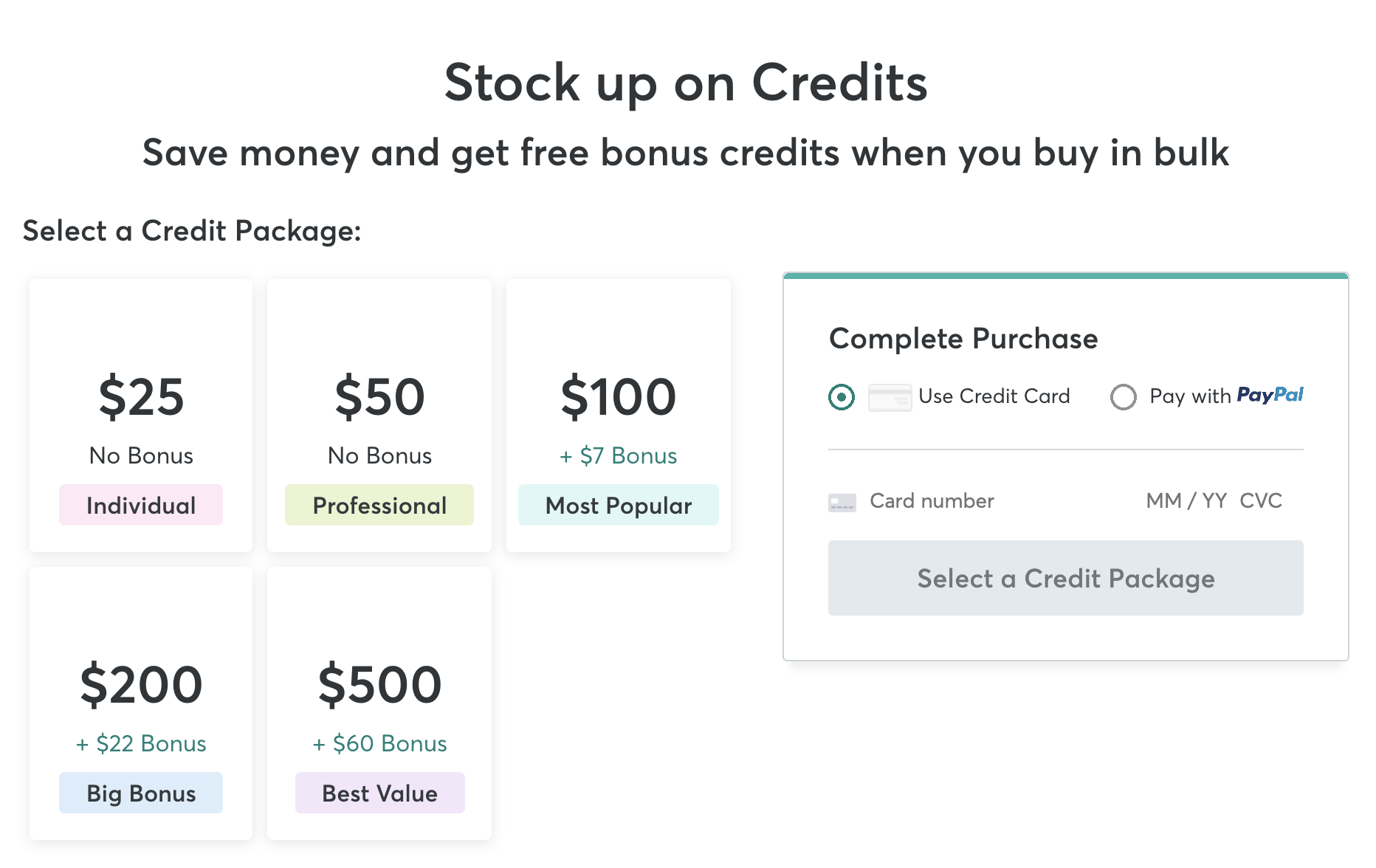 How can I buy credit packages?
Credits may be purchased either using your credit card or PayPal. Visit the Credits page to select the credits package of your choice (note that the $100 credits package is selected by default, as it is our most popular package, but you can select any of the packages you want by clicking.) After you check out, your credits will be automatically added to your account balance, which you can view at the top right of the screen.
What's a bonus?
When you purchase any of our higher-denomination credits packages, including the $100, $200, or $500 package, you'll get extra credits as a thank you for buying the package. For example, when you purchase a $100 credits package, you'll get $7 extra credits free- you spend $100 and receive $107!
I just bought credits– now what?
Hooray! Now you can start stocking up on awesome design assets! Credits can be used to purchase any product on Creative Market. When you want to purchase a product, our site will default to using your credit balance to pay for the item.
What if I don't have enough credits for a purchase?
If you're a few credits short, our system will prompt you to pay the remainder of the purchase price with your Credit Card. You can also purchase more credits.
Do credits expire?
Credits do not expire and will remain on your account until used.
Can I use my credits with a promo code?
You sure can! Promo codes can be used on any single product purchase you make using credits.
Can I use a promo code to save money when I buy a credits package?
Sorry, promo codes can only be used on product purchases and cannot be used on your purchase of a credits package.
How do I know how many credits I have left?
When you are logged in, your balance will appear in the upper right-hand corner when you mouse over your avatar: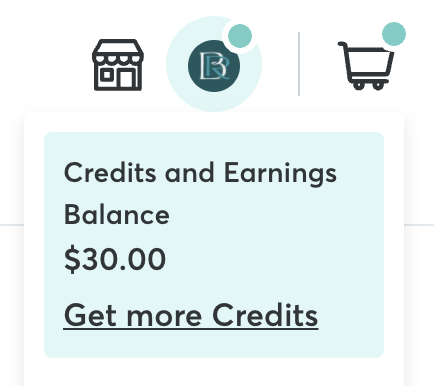 Can I get a partial refund for credits that I do not use?
Sorry, we do not offer partial credits package refunds. You can learn more about our Refund Policy here. If you don't plan to spend all the credits in a credits package, you can purchase a product directly using your credit card or PayPal when you're checking out.
---
PayPal
You can use PayPal to purchase credits and products on Creative Market.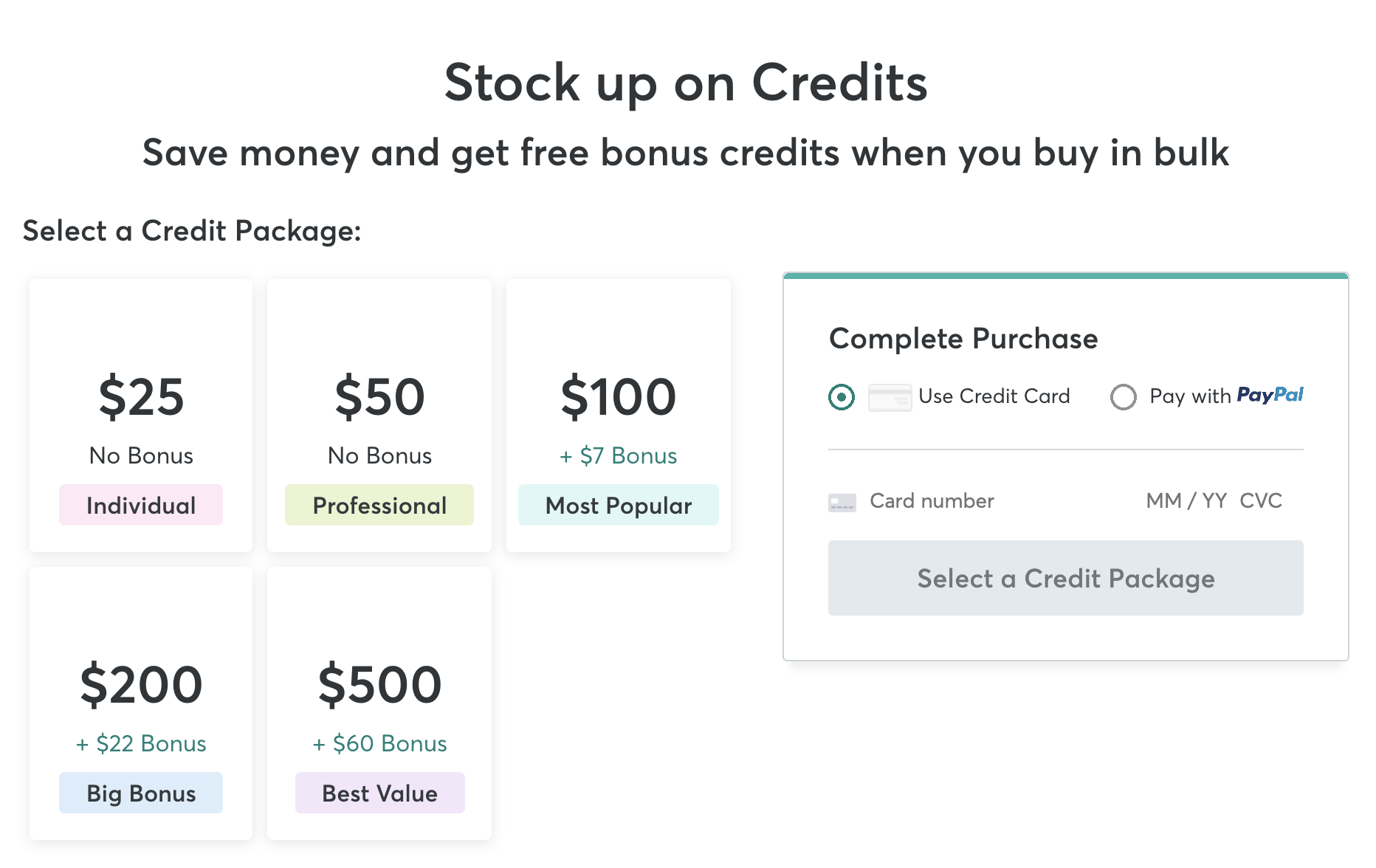 After clicking "Continue on PayPal", you will be redirected to PayPal, where you'll be asked to log into your PayPal account.
Once you complete the transaction, you will be brought back to Creative Market. If you purchased credits, you'll see the credits added to your account balance on the top right corner when you mouse over your avatar. If you purchased a product, you'll be able to download your purchase from your Purchases page here.
Common Questions:
Can I use PayPal to purchase individual products?
Yes! We now accept PayPal for direct product purchases when you're checking out with a single product purchase or our shopping cart.
Help! I see the error "No Token Passed" when I try to buy credits with PayPal!
Is it possible you're trying to use PayPal Credit? At this time, we do not support the "PayPal Credit" feature, which is similar to a credit card operated by PayPal's platform. If you try to use PayPal Credit, you'll probably see an error. You'll have to choose a different funding source, such as a bank account, PayPal balance, or credit card.
I bought the wrong credits package! How do I get a refund?
Send us a message, and we'd be happy to help resolve the issue. Please make sure you do not make a purchase with those credits prior to contacting us, since we are unable to issue partial credit refunds.
Still having trouble purchasing credits? Did you purchase the wrong amount/package? Please contact us and we'll help you resolve the issue!
---
Other Questions
Do you accept purchase orders or payments for bulk purchases?
Sorry, we don't fill purchase orders or accept direct payments for bulk purchases!
What currency does your site use? Are prices displayed in my country's currency?
All the products sold on our site are US Dollars (USD). Each price on our site is displayed in USD. Depending on the currency exchange rate between your country and the US, the charged amount on your statement may appear higher or lower than what was listed on the site.
Is your site checkout secure?
Creative Market offers a PCI complaint checkout and meets industry standards for handling credit card information. All sensitive payment information is handled by our credit card processor using tokenization. We do not record or store your complete credit card credentials in our system; rather, we only store the last 4 digits of your credit card and offer the option to save those details for future usage if you want. Saved cards go in your payment settings. Due to the secure way we handle credit card information, it is impossible for anyone to harvest your complete credit card credentials to use on another site.