All About Creative Market's Free Goods
Together with our generous Shop Owners, Creative Market offers two ways to get free, high-quality goods! Any member of our community can download 6 free goods every single week as part of our Weekly Free Goods. The Bonus Free Goods program rewards community members who regularly purchase from Creative Market with 6 extra free goods.
Weekly Free Goods
Weekly Free Goods are 6 great products offered for free, selected by our Design team each week to showcase the great designs from various shops on our site. They can range from fonts to graphics to WordPress themes. There are 6 new products every week, so make sure you get them before they expire! Our free goods are only free from Monday at midnight until Sunday night at 11:59 CT (UTC-6). After that, we'll offer 6 different goods for free. You can download our current free goods right over here!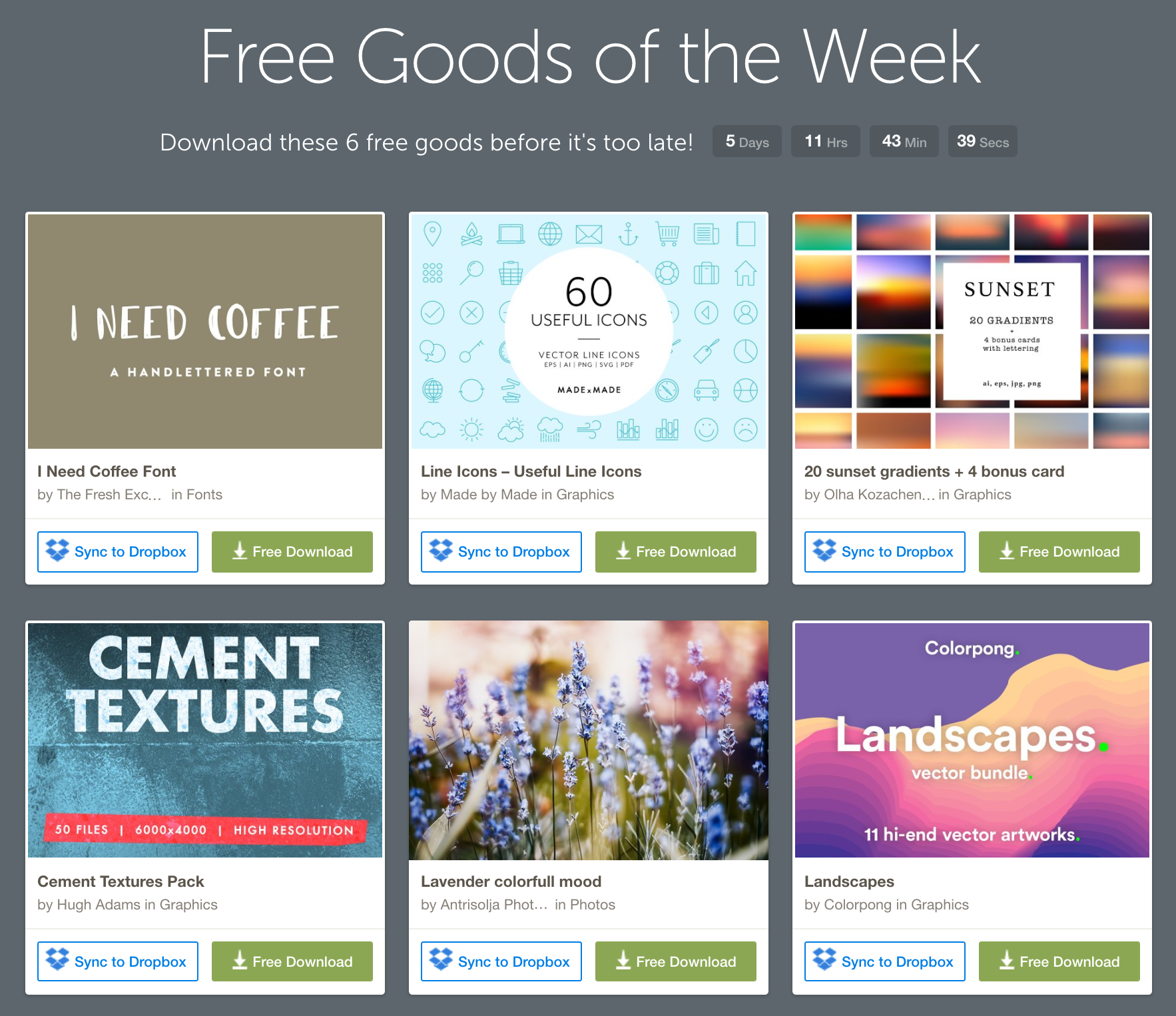 ---
Bonus Free Goods
By spending $15 in a two week span on Creative Market, you can unlock an additional 6 Bonus Free Goods!

Once you've spent $15, 3 bonus free goods will unlock each week for the next two weeks. You won't start earning bonus free goods until you've hit the spending goal, so shop early!
FAQ
When is the deadline to download the Bonus Free Goods?
Three bonus free goods will be available each week during the promotion starting at 12:00 am CT on Monday. The previous week's free bonus goods expire at 11:59 pm CT Sunday and will no longer be available once a new week begins. 
When is the deadline to unlock the Bonus Free Goods each week?
Spending $15 anytime over a two week period will unlock your bonus free goods. You will not receive any free goods you have missed in previous weeks.
Do purchases made with credits count toward the spending goal?
Yes! Purchases made via either credit card or Creative Market credits will go toward your goal and take you that much closer to unlocking bonus free goods. 
Does the purchase of Credit Packages count toward the spending goal?
No, the purchase of credits packages will not count toward the spending goal.
Do VAT payments count toward the spending goal?
Yes, VAT payments will count toward the spending goal. Read more about VAT here. 
Will purchases of Creative Market Big Bundles count toward the spending goal?
Yes, they sure will!
What can I do with a free good? What license comes with it?
All of the Free Goods are covered by the Standard License (with the exception of Wordpress themes, which come with the GPL 2.0).
Can I use the free good to create an End Product to sell?
Yes. You may use a free good to create an End Product and sell that End Product up to 500 times. Fonts and Add-ons may be used in unlimited End Products that may be sold unlimited times. See the terms of the Standard License for more information.
I'm a shop owner. Can I submit my products to be Free Goods?
Yes! Here are instructions on how to submit a Free Good as well as all you need to know about offering Free Goods.