Open a Shop on Creative Market
As designers ourselves, we're building Creative Market to be the site we'd want to use to buy and sell creative content. That means giving you more control over the products you sell, including:
A revenue split that favors the creators (you keep 60% of each sale*)
No exclusivity required: sell here, on your own site, and anywhere else! We want to earn your trust, not force you into selling exclusively with us at the promise of a better deal down the road. We think you're going to love Creative Market better than anything else you've tried before, and we want to prove it to you!
No frustrating review process every time you want to sell a new product
Set your own prices
* Exclusions apply. Please see our Tax FAQ to determine if you may be subject to tax withholdings.
We'll work hard to get your products the promotion they deserve. We've also built all the tools you'll need to track your sales, manage your shop, engage with your customers, and handle support - all in one spot.
Head on over to the Shop Request page to learn more about why you'll love selling your unique design content on Creative Market. Send us a shop request by clicking Open a Shop. Once you click on Open a Shop, you'll see this screen: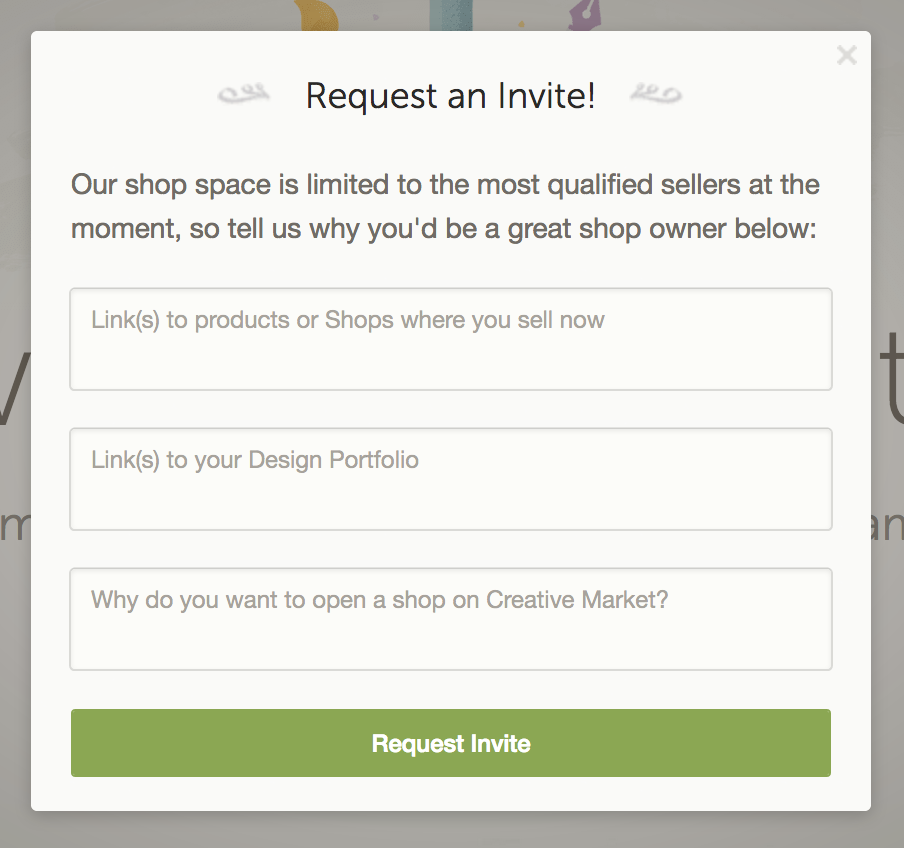 If you're selling your products somewhere else right now, include the links in the first box. If not, that's okay! Just put "not selling anywhere right now".
Include your online portfolio in the second box. If you don't have an online portfolio yet, you can create a free online portfolio on a site like Behance or Carbonmade.
Note: Please make sure the portfolio included is online and linkable. Unfortunately we cannot look at attachments or downloads for security reasons. Also, please avoid using link shorteners like Bit.ly when sending us links to your work.
---
What do you look for in new shops?
A real human being (and artist) reviews each shop request. Here are some of the things we look for while reviewing shop applications:
Excitement and wow factor: We have lots of great products already, but we're always excited when our shop applicants show us work that really amazes us!
Uniqueness: We review many shop requests each day, and we're looking for designers who don't play it safe, can better understand what's already out there, and have work that stands by itself. Catering to popular trends or a certain niche is great, but setting new trends is fantastic!
Quality: You're aware that it's the tiny details- the small style choices and finishing touches- that turn an okay design into something great. Your visual elements are just as smooth as your technical skills. Everything you create gets better and better!
Solid portfolio: We like to see at least 10 to 20 examples of your work to evaluate you in a complete manner. Preferably, these samples should also pertain to what you'd like to sell on Creative Market. Seeing different samples from you here shows us the progress of your work.
Again, please make sure you send us a link to your online portfolio. We won't be able to look at attachments or downloads.
We review each and every shop request closely, ensuring that we are allowing quality designers to open shops on Creative Market. We also closely monitor any reports and feedback from the community regarding products and/or shops. We respond as quickly as possible to any issues. Please let us know if you have a concern.
---
Why was my request waitlisted?
If you're on the waitlist, we want to see more stuff from you in the future. Don't worry--not everyone gets their shop approved the first time! Take some time to expand your portfolio with new samples of your best work (because submitting the same portfolio multiple times for review will not increase the chances of your shop being accepted.) You can learn more about the things we look for right here. When you're ready, submit a second Shop Request with links to those new items. Our team will review your work again and follow up with you.