As designers ourselves, we're building Creative Market to be the site we'd want to use to buy and sell creative content. That means giving you more control over the products you sell, including:
A fair revenue split (commission rates vary per shop/per product)

No frustrating review process every time you want to sell a new product

Set your own prices

We'll work hard to get your products the promotion they deserve. We've also built all the tools you'll need to track your sales, manage your shop, engage with your customers, and handle support - all in one spot.
Head on over to the Shop Request page to learn more about why you'll love selling your unique design content on Creative Market. Send us a shop request by clicking Open a Shop. Once you click on Open a Shop, you'll see this screen: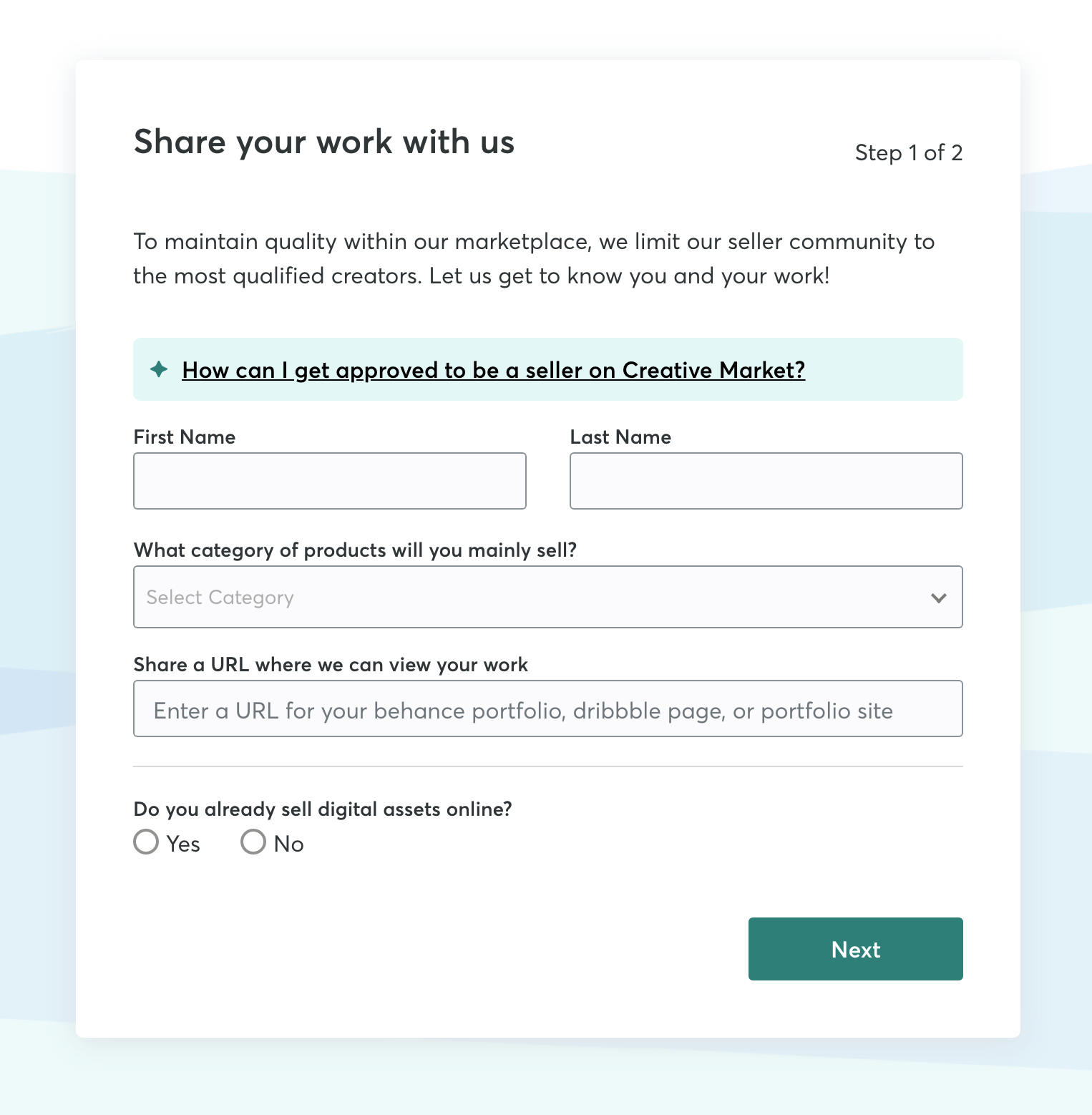 Before you apply, please make sure you prepare the following:
A link to your online portfolio or a showcase of your work online. If you don't have an online portfolio yet, you can create a free online portfolio on a site like Dribbble or Behance.

If you are currently selling digital products, please provide links to where you are already selling your products online.

To verify your ownership of your work, please make sure the email address associated with your Creative Market account is visible somewhere on the page to which you link. For example, you can add your email address to your bio on Dribbble.
Note: Please make sure the portfolio included is online and linkable. Unfortunately, we cannot look at attachments or downloads for security reasons. Also, please avoid using link shorteners like Bit.ly when sending us links to your work.
---
What do you look for in new shops?
A real human being (and artist) reviews each shop request. Here are some of the things we look for while reviewing shop applications:
Work that is amazing & unique: We have lots of great products already, but we're always excited when our shop applicants show us work that really amazes us! We review many shop requests each day, and we're looking for designers who understand what's already out there and create work that really stands out.
High quality work: From your work, we can tell that you've taken time to make your work superb, down to the tiny details and finishing touches. You've made thoughtful style choices that turn an "okay" design into something beautiful. Your visual elements are just as smooth as your technical skills. Everything you create gets better and better!
A thoughtfully-crafted portfolio: We like to see at least 10 - 20 examples of your best work to evaluate you in a complete manner. Ideally, these samples should pertain to what you plan to sell on Creative Market. (Also, keep in mind that for security reasons, we can't review .zip files or Dropbox/Google Drive links. Please make sure you send us a link to your online portfolio.)
Assets that designers are excited about: You can check out what sells well on our site by browsing through items in the "popular" section of our product categories- but we always love seeing new items that would take that to the next level! Catering to popular trends or a certain niche is great, but setting new trends is fantastic! (Note that certain products that sell well on other marketplaces may not be as successful at Creative Market, due to what our audience tends to like and buy.)
Assets that help designers level-up their projects: Creative Market offers graphics, tools, and assets that help our customers complete their design projects, client work, and End Products for sale. With these needs of our passionate community in mind, we've designed a series of Licenses, so you don't have to worry about writing your own! Assets you would sell on Creative Market would ideally be products that would fit within our License terms. You can read more about our General Licenses here and our Font Licenses here.
We review each and every shop request closely, ensuring that we are allowing quality designers to open shops on Creative Market. We also closely monitor any reports and feedback from the community regarding products and/or shops. We respond as quickly as possible to any issues. Please let us know if you have a concern.
---
Why was my request waitlisted?
If you're on the waitlist, we want to see more stuff from you in the future. Don't worry--not everyone gets their shop approved the first time! Take some time to expand your portfolio with new samples of your best work (because submitting the same portfolio multiple times for review will not increase the chances of your shop being accepted.) You can learn more about the things we look for right here. When you're ready, submit a second Shop Request with links to those new items. Our team will review your work again and follow up with you.