Open a Shop on Creative Market
As designers ourselves, we're building Creative Market to be the site we'd want to use to buy and sell creative content. That means giving you more control over the products you sell, including:
A revenue split that favors the creators (you keep 70% of each sale)
No exclusivity required: sell here, on your own site, and anywhere else. We want to earn your trust, not force you into selling exclusively with us at the promise of a better deal down the road. We think you're going to love Creative Market better than anything else you've tried before, and we want to prove it to you.
No frustrating review process every time you want to sell a new product
Set your own prices
We'll work hard to get your products the promotion they deserve. We've also built all the tools you'll need to track your sales, manage your shop, engage with your customers, and handle support - all in one spot. Head on over to the Shop Request page to learn more about why you'll love selling your unique design content on Creative Market. Send us a shop request by clicking Open a Shop.
 Once you click on Open a Shop, you'll see this screen: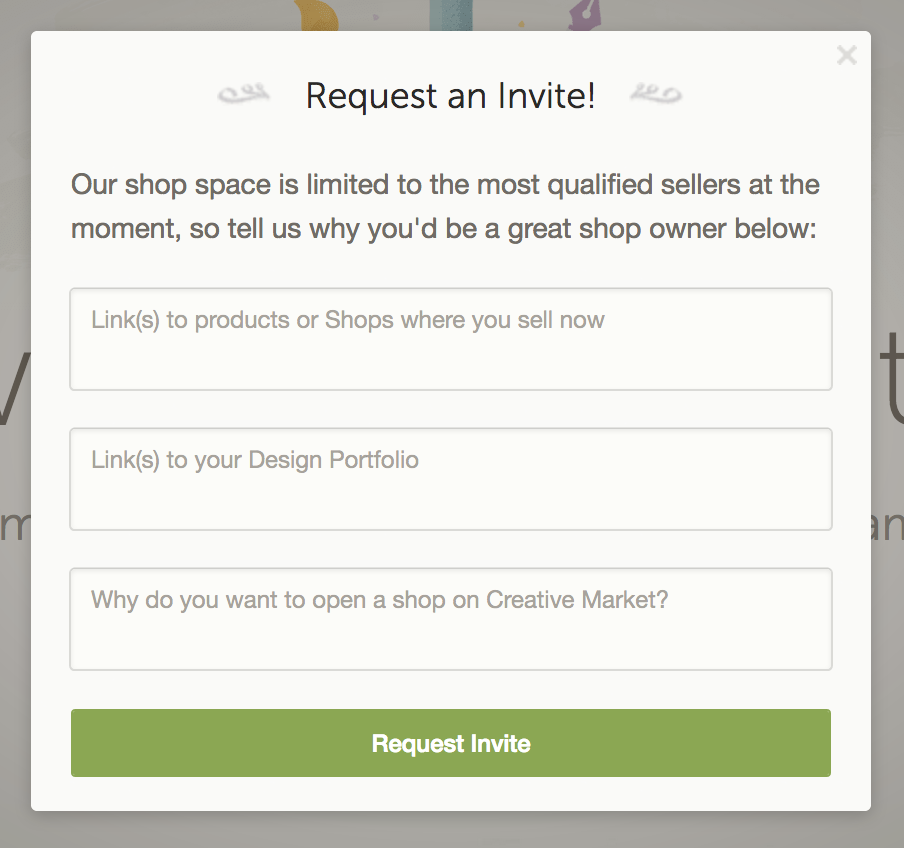 If you're selling your products somewhere else right now, include the links in the first box. If not, that's okay! Just put "not selling anywhere right now". 
Include your online portfolio in the second box. If you don't have an online portfolio yet, you can create free online portfolios on site like Behance and Carbonmade. Please make sure the portfolio included is online. We will not look at attachments or downloads. Also, avoid using link shorteners like bit.ly when sending us links to your work.
Make sure there are 10-20 samples of your best work that relates to things that you would like to sell on Creative Market. For more details about what we're looking for, check out this article.